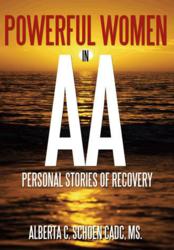 Chicago (Vocus/PRWEB) January 10, 2011
In July 2009, Diane Schuler killed herself and seven others, including her daughter and three nieces, when she wrecked her car while driving with a blood alcohol content more than twice the legal limit. Her friends and family vehemently denied that Diane, the epitome of a well-coiffed, doting mother and wife, could possibly have been driving drunk. Like many women, Diane successfully hid her alcoholism from everyone, even her husband. Her story brings to light the double standard that female alcoholics face in a society that often ignores their problem. Today, with statistics showing that women are drinking heavily and more often than ever before, it's imperative that recovering women come forth to share stories of sobriety. Their voices beg to be heard, and with her moving new nonfiction, Powerful Women in AA: Personal Stories of Recovery (published by AuthorHouse), certified alcohol and drug counselor Alberta C. Schoen fearlessly stands up and speaks for them.
"Together, the women in this book have around three hundred years of sobriety," Schoen writes. "One day at a time." Staying true to the central message of the Alcoholics Anonymous program, Powerful Women in AA also remains faithful to the truth; only the names have been changed.
The lives of 14 women are unveiled in a series of stories that, when viewed as a whole, give an unprecedented, candid snapshot of women struggling with alcohol and drug abuse. Schoen deftly interprets each woman and illuminates the factors that contributed to her drinking, allowing her to speak in her own words. A contemporary, vivid portrait emerges; one that reveals certain similarities as it highlights the unique experience of each subject.
Schoen proves that women are getting and staying sober every day with this powerful new perspective of what a recovering woman looks like. Drawing from years of experience working with women in AA, she pays tribute to their collective courage, intelligence, talent, dedication and love.
"Having survived their psychic injuries, transcended their alcohol-sodden situations, these women tell us their stories so that we can take inspiration from their lives, and perhaps see how to change our own lives for the better," Schoen writes. Take the first step towards your own recovery, or be otherwise inspired by the seemingly insurmountable obstacles overcome by these Powerful Women in AA.
About the Author
Alberta C. Schoen is a certified alcohol and drug counselor with a master's degree in counseling. For more than 20 years she worked in a variety of settings, including several hospitals, next step programs and counseling groups. She currently resides in the Midwest, where she previously owned and operated a bed and breakfast for six years. Schoen has two children and six grandchildren.
AuthorHouse is a premier book publisher for emerging, self-published authors. For more information, please visit http://www.authorhouse.com.
###