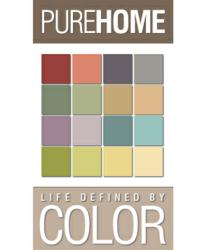 Seattle, WA (Vocus/PRWEB) January 07, 2011
With the new year, many people are making resolutions. Some have decided to lose weight or stop another bad habit, or read more books and start a good one. Pure Home Corporation wants to help home owners meet home decor and home improvement goals.
Color defines us, and expressing it in the home is a sure way to inject rooms with personality, mood, and emotion. Pure Home's unique color selection tool allows consumers to accurately select colors for home decor projects by matching colors with styles, moods, lighting, and even existing furniture and art already in the room.
The unique contextual search technology available with Pure Home Corporation is designed to help consumers discover the colors and styles that define them. This personalized search tool will be available through the Pure Home website in early 2011, with beta access being invite only. Full public launch is expected late Spring or early Summer 2011.
Pure Home doesn't stop the process with color selection, but also facilitates better communication between the consumer and product seller. The balanced flow in communication between consumer and merchant that is offered through Pure Home's social commerce web site features personally-matched products to a consumers specific color profile, a large forum and product review community, and an industry focused blog.
About Pure Home:
Pure Home is a social trading hub for the home decor industry, bridging the communications gap between buyer and seller by leveraging the Inspir™ Color Standard with their patent pending Contextual Search technology. Pure Home is bringing symmetry to the flow of information in an extremely fragmented marketplace, with a breakthrough user experience - giving consumers greater confidence in their home decor decisions. As more manufacturers become part of PureHome.com's social commerce platform, more and more products are becoming available for algorithm-fueled recommendations to consumers. Ultimately, Pure Home's breakthrough value proposition will result in the efficient balance of supply and demand—unfiltered by the economics of scarcity, and elevated by contextual matching—opening new markets and customers to sellers regardless of their geography, sales volume or revenue-generating constraints while lowering transaction cost within the marketplace.
For more information, visit the Pure Home web site at: http://www.purehome.com
or
the Pure Home blog at: http://blog.purehome.com
###