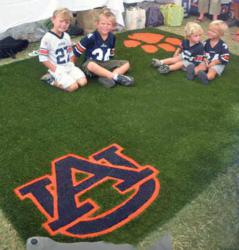 TailgateTurf can be laid down wherever a fan is setting up their tailgate and looks great beneath tents, outside RV's and under food & beverage tables
(Vocus/PRWEB) January 12, 2011
Tailgating is one of America's favorite pastimes and enthusiasts go to great lengths to create a fun, comfortable, and entertaining space to enjoy the pre and post game rituals. XGrass®, Inc. saw and opportunity and has created a tailgating mat made from the same synthetic grass fibers used on athletic fields across the world. The primary size is 8'x10' with collegiate logos in two corners and "split household" versions can be custom ordered featuring two different schools logos. The logos are not painted on – they are inlays giving TailgateTurf a unique look sure to catch the attention of fellow tailgaters. TailgateTurf can be laid down wherever a fan is setting up their tailgate and looks great beneath tents, outside RV's, and under food and beverage tables. Tailgating areas are high traffic so TailgateTurf is designed to be extremely durable and can be used season after season. Just roll up and store after the game.
Since tailgating is often a family event, it is great to have a clean dry place for kids to play and sit. TailgateTurf is synthetic grass - made from a 100% recyclable materials - and can be used as either an indoor or outdoor product. It is easy to clean and will hold up to all the "elements" encountered during the tailgating season. As people hear about TailgateTurf it has become evident by suggestion that there are other uses for this unique product. TailgateTurf is great for block parties, concert events, and cook outs too. XGrass, Inc. has also responded to the need for smaller sizes by creating a 5'x8' versions of TailgateTurf with a centered logo. These are even more portable and can be used in dorm rooms, hung on walls as decoration, or used as an area rug.
TailgateTurf will be on display in Las Vegas at the Sports Licensing and Tailgate Show January 17th through the 19th. "This is a new product and a whole new industry for us," commented Steve White, owner of XGrass, Inc., "The response to TailgateTurf has been positive and we are looking forward to putting the product in front of a larger audience." The primary business for XGrass, Inc. is supplying synthetic grass for larger formats such as playgrounds, landscaping, putting greens, and athletic facilities. "We're all college football fans at XGrass with strong affiliations to our respective schools, so turning turf into an accessory for tailgating was a fun project and a natural fit. We made some prototypes and showed them off at our own tailgate events" White went on to say, "and people approached us, asking where they could get one!" From there TailgateTurf was born and will soon be seen at tailgates around the country.
XGrass® Inc. services the United States and Canada and other countries through their distribution network and independent dealers. Available brands including XGrass® Lawn, XGrass® Play, XGrass® Pet, XGrass® Sport, XGrass® Enviro and XGrass® Golf.
# # #