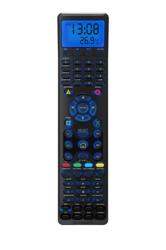 Glendale, CA (Vocus/PRWEB) January 10, 2011
Sunflex USA, the exclusive U.S. distributor of the video gaming brand snakebyte™ and FINAL FANTASY® XIV controller, last week unveiled the snakebyte™ Premium Bluetooth Remote at the 2011 International CES. Utilizing both Bluetooth and standard Infrared wireless technologies, the remote makes controlling your PS3™ and up to 5 other A/V devices simultaneously a simple task.
"The snakebyte brand epitomizes innovative and high quality products for demanding gamers," said Howard Borenstein, President of Sunflex USA. "We're in the process of expanding our portfolio of Premium PS3™ products and we're proud to offer a definitive single remote control solution for PS3™ users which will live up to the highest standards."
Key features of the snakebyte™ Premium Bluetooth Remote include:

Backlit LC display and buttons with motion sensor activation
LC display indicates time and room temperature
Controls PlayStation 3 via Bluetooth technology
Learnable IR remote control circuit for up to six infrared controlled devices
Built-in Li-ion battery that can be charged with USB port
Firmware can be updated via USB
The snakebyte™ Premium Bluetooth Remote will retail for $49.99 and will be available April 2011 at http://www.snakebyte-usa.com and other e-tailers.
If you're interested in connecting with snakebyte™ on popular social networking sites, follow the company on Twitter and "like" them on Facebook.
About Sunflex USA
Sunflex USA is the exclusive distributor of the video gaming brand snakebyte™, covering a wide range of video gaming and PC accessories. Creator of useful adaptors, sophisticated controllers, premium cables and state-of-the-art peripherals for hardcore gamers, Sunflex is the #1 source for gaming accessories for all systems including Nintendo Wii, Sony PlayStation 3, Xbox and PCs.
The snakebyte™ brand is known worldwide as a leader in third party accessories, entering the U.S. market this year after a decade of success in Europe, garnering many awards and excellent reviews for all of its product lines.
# # #