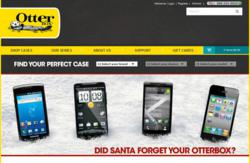 With the rise in sales of mobile devices growing worldwide, we will be able to easily expand our ecommerce presence globally with Demandware to meet this demand one case at a time.
Burlington, Mass. (Vocus/PRWEB) January 11, 2011
News facts:

Demandware, Inc., a global leader in on-demand ecommerce, today announced that OtterBox® is powering its new ecommerce site – http://www.otterbox.com - with Demandware® Commerce to help support the Company's U.S. and global ecommerce growth plans.
OtterBox, an innovator of protective cases for today's leading technology devices, has been helping even the most accident prone and klutzy individuals keep their technology safe since launching the company in 1998.
The new OtterBox U.S. online store officially went live in October 2010. The Company plans to leverage the Demandware SiteGenesis™ pre-built storefront application to quickly launch more sites internationally in 2011 to keep up with its growth and product demand.
Big changes in the new Demandware-powered site include improvements to the checkout process and the addition of customized promotions that were just not possible with OtterBox's previous platform.
To create a richer, more interactive shopping experience, OtterBox is also incorporating tech specs, ratings and reviews, Q&A's, case studies and product videos on each of its product pages to help increase conversion rates.
OtterBox tapped into the Demandware LINK Marketplace to leverage pre-built integrations from Bazaarvoice to power its ratings and reviews and Omniture SiteCatalyst for analytics. Demandware LINK is a growing community of technology partners committed to lowering the integration hurdles and costs associated with adopting ecommerce technologies.
Demandware Commerce is the only platform to combine best practice customer experience applications for ecommerce and mobile commerce, a sophisticated cross-channel merchandising engine, an open development environment for full platform customization and extension and the efficiency and power of next-generation cloud computing.
Supporting quotes:
"As a company dedicated to manufacturing only the highest quality products, choosing an ecommerce partner with the same philosophy and devotion to helping us grow and increase sales was paramount in getting our business to the next level," said Mike Soderholm, web & ecommerce manager, OtterBox. "With the rise in sales of mobile devices growing worldwide, we will be able to easily expand our ecommerce presence globally with Demandware to meet this demand one case at a time."
"At a time when the whole world is going mobile, OtterBox, a leading protector of mobile devices, is finding themselves with a remarkable growth opportunity," said Jamus Driscoll, vice president of marketing, Demandware. "Being able to keep up with that demand and help OtterBox expand its operations globally is what the Demandware Commerce platform was built for. We are thrilled to be a part of OtterBox's quest to keep technology devices, around the world, safe from harm."
Connect With Us!

Twitter – twitter.com/demandware
Facebook – facebook.com/demandware
About OtterBox
Built upon fundamentals of hard work, innovation and perseverance, OtterBox is a leader in the production of premier protective solutions for global handheld manufacturers, wireless carriers and distributors. Incorporating creativity and cutting-edge design into every product, OtterBox creates sleek and durable cases that offer reliable device protection to complement any lifestyle. OtterBox was founded in 1998 and is headquartered in Fort Collins, Colorado.
For more information, visit http://www.otterbox.com or call 888-695-8820. We've Got Technology Covered.
About Demandware, Inc.
The trusted, global leader in on-demand ecommerce, Demandware revolutionizes how businesses deliver customized shopping experiences to consumers in the digital world. Only Demandware combines the on-demand ecommerce platform rated #1 by industry analysts, an open ecosystem of partners that extend the value of the platform, and measurable commitment by its employees to enabling client revenue growth. Demandware continually sets industry standards for market innovation and client satisfaction. Demandware clients include industry leaders such as Bare Escentuals, Barneys New York, Callaway Golf, Columbia Sportswear, Crocs, Hanover Direct, Jones Apparel Group, Lifetime Brands, Michaels Stores, Neckermann, Panasonic, Reitmans, s.Oliver and Theory. For more information about Demandware, visit http://www.demandware.com, call 888-553-9216 or email info(at)demandware(dot)com.
Christine Major
Corporate Communications Manager, Demandware
Phone: 603-743-4534
Email: cmajor(at)demandware(dot)com
Twitter: @demandware
###