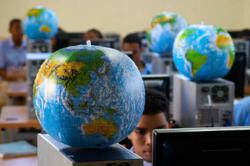 Taking part in the Salesian University Network is an important step for these youth. Many of them are facing uncertain futures and connecting with each other will help them regain their self confidence.
Port-au-Prince, Haiti (Vocus/PRWEB) January 10, 2011
For university students in Haiti, access to technology is a way to stay connected to studies, social networks—and the opportunity to make a difference in their country's future.
Through the new Salesian University Network, hundreds of university students who have been unable to return to school following the Jan. 12, 2011, earthquake will have a chance to continue their education.
Thirteen computer labs or cybercafés with being established to help students stay up-to-date in their studies. Students will also have the opportunity improve their skills in computer science, English and Spanish, which are valuable skills for any professional career in Haiti. Just as importantly, the Salesian University Network provides an important means for students to connect with other students and form friendships.
"Taking part in the Salesian University Network is an important step for these youth. Many of them are facing uncertain futures and connecting with each other will help them regain their self confidence. It isn't just a computer network, it is a network of relationships and communication established between students, their peers and the Salesian community," says Fr. Mark Hyde, director, Salesian Missions.
Students come from different backgrounds and have varied skills and levels of training. For some students, the Salesian University Network will offer an introduction to computer science and an opportunity to master the basic software. Students will also be able to conduct further research on their specific interest areas.
"It is important for Haiti to promote the growth of its human capital," says Edson Timana, Haiti relief and reconstruction help desk officer, Salesian Missions. "The Salesian projects are making a difference by strategically providing aid where it is most needed—with a focus on education. The ultimate goal is to make the investment in education so that these students can finish their studies and contribute to a better future for Haiti."
According to a Jan. 31, 2010 article in University World News, "general estimates suggest only 1% of Haitians between the ages of 18 to 24 enter tertiary education. That rate is the lowest in the hemisphere."
Installation of the computers is being coordinated by Edysson Yves-Antoine Thanis, a former Salesian student.
The computers will be installed at Salesian communities in 13 provincial towns, as well as the capital:
Fort-Liberté
Ouanaminthe
Cap-Haïtien
Gonaïves
Hinche
Jacmel
Cayes
Fleuriot
Pétion-Ville
Cite Militaire
Cité Soleil
Thorland
Gressier
The computers have been shipped to the locations and are in the process of being installed. Timana noted that in addition to computers, converters are being supplied to combat the vast electric fluctuations and constant blackouts in Haiti. The converters will ensure constant power through electricity, generators and a battery system.
"We're going to do everything we can to keep students connected," says Timana.
The students will be connected not only to their schools and the teachers and fellow students, but to all of the opportunities that education provides.
For more articles about progress in Haiti, go to ProgressInHaiti.org
ABOUT SALESIAN MISSIONS IN HAITI
(Special note: Salesian Missions has launched the news site ProgressInHaiti.org to report on programs and progress in Haiti.)
In the aftermath of Haiti's earthquake, Salesian Missions provided disaster relief to victims—many of them their own students and teachers. Early efforts focused on the basic human needs of food, water, medical supplies, survival kits and tents for shelter. Thousands of refugees were housed within the confines of those facilities which were not destroyed, and thousands more were provided meals.
Donations are still needed and can be made by going to FindYourMission.org.
The Salesian Missions Office for International Programs, located in New Rochelle, NY, was assigned the task of coordinating relief efforts immediately after the earthquake.
In the following months, 59 containers of relief supplies—including food, water, clothing, medical supplies, computers, personal hygiene supplies, water purification plants, water purification tablets, 1,600 schools in a box, 10 industrial generators, and forklifts—were shipped, as well as two school buses and nearly 2,000 tents. To ensure the most effective use of supplies, Salesian Missions evaluates the situation at each of its sites to match needs with available resources.
To date, approximately $2.5 million in funds have been spent by Salesian Missions on relief efforts for the Haitian people, along with additional in-kind donations. More than 23,000 students and 1,200 teachers have returned to classes at 10 Salesian Missions educational works.
Today the efforts are focused on rebuilding the country with the promise of its youth. While some humanitarian organizations and many people have left the country, the Salesians will continue with their work for the people of Haiti as they have since 1935. They are an integral part of the fragile nation's infrastructure.
###