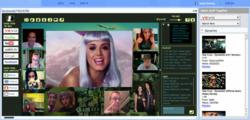 Golden, CO (Vocus/PRWEB) January 24, 2011
Vevo is the No. 1 spot for online music videos in the U.S., garnering more than 43 million unique viewers who watch 350 million streams, according to ComScore Inc. Among all video sites, Vevo ranked fourth, just after Google Inc., Yahoo Inc. and Fox Interactive Media, and beating out the likes of Facebook Inc., Microsoft Corp., CBS Interactive and Hulu, a site owned by Walt Disney Co., News Corp. and NBC Universal. Vevo-social.com and Zorap want to turn this Vevo success into a group online interactive musical experience.
Few experiences are more compelling for young adults and teens than attending concerts with friends. This experience is now available from anywhere with Vevo-social.com. The iGeneration is all about communication, immediacy and is adept at multitasking and using technology to create a vast array of content to share. Vevo-social.com taps all these elements along with the group 'hanging-out' dynamic to create a compelling, custom concert scene around Vevo music videos.
Vevo-social.com uses Zorap technology to combine quality multi-point video sharing, social graph connection tools and Vevo music videos. After opening a virtual room and inviting friends to join, everyone contributes music videos to the virtual concert queue. The videos play one after the other while everyone watches, IMs and LOLs. In fact, in many ways, it's better than attending a concert because any number of artists can perform for an unlimited amount of time.
http://www.vevo-social.com/ or http://www.zorap.com/
Vevo-social.com by Zorap is the first real-time communication service that allows groups of people to collaboratively experience and enjoy libraries of rich media content in personalized rooms, on fan pages, and on websites. Zorap adds an exciting new dimension to the experience of social networks, allowing people to hang out and enjoy stuff together, in real-time. See what I see at Zorap.com.
###