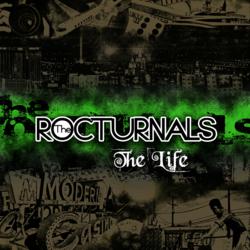 Las Vegas, NV (Vocus/PRWEB) January 11, 2011
The Rocturnals will release their debut album "The Life" on January 11, 2011 through Black Casino Music & Entertainment, LLC. "The Life" is an intense look into the life of a rock star, which musically reveals the joys and pains of the rock bands' lifestyle.
The Rocturnals, formerly known as KansasCali, first built a name for themselves by producing music for iconic artists and noteworthy motion picture soundtracks. Their hit song "If I…" was featured on the soundtrack for the 2004 Oscar winning film Crash (Crash: Music From & Inspired by Crash) and was chosen as the featured single over the Oscar nominated song "In the Deep." The band was asked to create a music video for "If I…" exclusively for the special features section of the film's DVD that went on to sell over 10 million units.
Next, the band worked on the major motion picture soundtrack for "Mr. & Mrs. Smith," providing the song, "If I Never See You Again." With the success of these two blockbuster movie soundtracks, additional opportunities followed, including providing music for the Orlando Bloom film "Haven" (2006), Jamie Kennedy's "Kickin It Old School" (2007), NBA Theme "This Is Where Amazing Happens" that debuted on TNT at the 2010 NBA ALL-Star weekend and ESPN's "Once In A Lifetime" (2006).
The Las Vegas based band, The Rocturnals, consists of five members: lead vocalist, A. "Pittboss" Johnson; lead vocalist/ rapper, Aulsondro "Novelist" Hamilton; drummer, E. Borders; lead guitarist, Trist; and guitarist, Adam Crow. Together, they have created a new musical movement they've dubbed "Urban Rock," a combination of funk rock, alternative rock with soulful overtones, hip-hop aggression and R&B melodies.
Collectively, the band has produced music for iconic artists such as: 2Pac, Thugz Mansion (acoustic version), Better Dayz, Nas, God's Son. They also contributed the song "Pop Life" exclusively for the album Doctor Fink Presents: A Tribute to Prince. The Rocturnals have been featured on over 20 records for various artists throughout their career.
"The Life" will be released exclusively to online retailers such as iTunes, Amazon and Rhapsody, to name a few. In addition to being able to purchase the songs individually, fans will have the option to purchase the 20-song album for one low price, a new format The Rocturnals have named Digital Long Play (DLP).
To preview "The Life" on iTunes, please click here.
Booking agents & venues http://www.therocturnals.com/epk/rocepk.html.
For additional news and information, please visit:
http://www.TheRocturnals.com
http://www.myspace.com/therocturnalsmusic
http://www.twitter.com/therocturnals
For media inquiries and bookings, please contact Justin Leigh and or David Frangioni at RocMgmt (at) gmail (dot) com
About BFM Digital, Inc.
BFM Digital is a global digital music company committed to serving the independent music community and delivering quality music, spoken word and video content to leading online retailers worldwide. Representing a diverse catalog of indie labels, artists and publishers, BFM distributes to all of the major music services including iTunes, Amazon, Rhapsody, eMusic, Napster, Walmart, Nokia and many more. With an unparalleled commitment to personalized service, BFM works closely with their content providers from around the world to ensure maximum exposure of their catalog by customizing marketing efforts and building strong relationships with BFM's digital store partners.
###