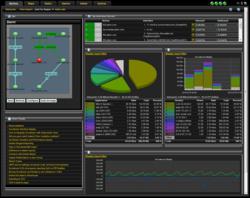 Scrutinizer does exactly what we wanted by helping us solve problems immediately.
Sanford, ME (Vocus/PRWEB) January 12, 2011
When Parmalat Australia was faced with chronic bandwidth saturation, they turned to NetFlow analysis with Plixer International to gain network insight. As a major manufacturer of fresh dairy products with multiple facility locations in Australia, Parmalat had little network visibility. They rely heavily on Citrix virtualized desktop environments and on VOIP which consume considerable bandwidth on the 512k lines to many of their remote sites. Saturation of these links was a chronic problem that interrupted business critical applications and telephone communications.
Parmalat's IT Department had few means to observe their network and had no efficient way to determine why users experienced slow response time. Their only investigative option was to perform redundant and time-intensive steps to determine causation. "We didn't want to just throw bandwidth at the problem," explained Daniel Fraser, Systems Administrator at Parmalat Australia. "We wanted to understand what was happening and why."
Increasing bandwidth was an option, but it was an expensive option that would have yielded little benefit and no network insight. While investigating other alternatives to improve time to resolution, Parmalat discovered NetFlow and Scrutinizer.
NetFlow is a technology created by Cisco Systems that monitors and records all IP traffic passing through the supported router or switch. Prior to this technology, IT administrators could see how much traffic was on a network, but they couldn't see what kind of traffic it was. NetFlow collectors gather and analyze the flow packets for data then present that data in a graphical format, providing extremely detailed trending and measurement of network traffic.
During periods of bandwidth overutilization, Fraser used Scrutinizer NetFlow and sFlow Analyzer from Plixer International to isolate the IP addresses of the users and servers consuming the traffic. They were able to drill in and determine that some Citrix sessions would over consume bandwidth. This saturation was often caused by users accessing flash-intensive websites or by sending sizable print jobs with high pixel counts to the centralized print location.
The Parmalat IT team then reconfigured their network to block most Citrix video streaming and other noncritical business applications and now do video over the network instead of through Citrix. Through Scrutinizer's network monitoring software, the IT department can set bandwidth utilization thresholds which proactively notify network administrators if utilization is approaching critical levels.
Scrutinizer offered increased network visibility without the requirement of investing in new hardware, network probes, or additional bandwidth. Parmalat invested in Scrutinizer NetFlow Analyzer as their most cost-effective solution to actively monitor traffic and improve business processes. Within hours, they installed and began using the tool to pinpoint network areas needing attention. In comparison to the cost of increasing bandwidth to all sites, and in comparison to performing their previously redundant IT problem-solving processes, Scrutinizer has produced a sizable ROI for Parmalat Australia. "With Scrutinizer, we no longer have to invest significant man hours performing repetitive tasks to find solutions," Fraser said.
The end result was a dramatic increase in productivity and bandwidth availability during business hours, with a decrease in user complaints. "We wanted to give our users constant experiences instead of great connectivity one day then terrible connectivity the next day," said Fraser. "Scrutinizer does exactly what we wanted by letting us identify and solve problems immediately."
With the addition of Scrutinizer from Plixer International, Parmalat was able to drill deep into the NetFlow records to troubleshoot and solve the voice quality errors and greatly improve efficiency across the enterprise. The version 8 release of Scrutinizer enhances the network visualization, allowing administrators to improve QoS and troubleshooting while decreasing IT costs. Scrutinizer v8's color-coded reports and innovative graphical images make network traffic instantly visible to provide a proactive and efficient network traffic management operation. Enhancements to the MyView dashboard feature, improvements to the Google Maps feature, and the Sphere graphical feature provide optimized visualization for better network management.
In addition to Parmalat Australia, many other international companies have also recognized the benefits of using Scrutinizer for their network traffic analysis. Organizations such as the Royal Bank of Scotland, 8el, South Hampton University Hospital, and Airservices Australia have begun taking advantage of Scrutinizer's advanced NetFlow reporting capabilities.
About Plixer International, Inc.
Plixer International, Inc. develops and markets network traffic monitoring and NetFlow analysis tools to the global market. All of the sFlow, IPFIX and NetFlow tools are built from the ground up with valuable feature sets and ease of use in mind. Plixer tools have been used to analyze and troubleshoot irregular network traffic patterns by IT professionals with some of the largest networks in the world, such as AT&T, Toyota, CNN, The Coca-Cola Company, Lockheed Martin, IBM, Regal Cinemas, Raytheon, and Eddie Bauer.
For product and sales information, contact Plixer International, Inc. at 1 Eagle Drive, Sanford, Maine, via telephone 207-324-8805, via fax 207-324-8683, on facebook, on Twitter, or through the Plixer website at http://www.plixer.com.
###