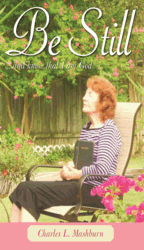 College Station, TX (Vocus/PRWEB) January 12, 2011
Not as a preacher or as a bible scholar, author Charles L. Mashburn, shares with his readers a life with God through the eyes of a common man. He humbly shows how an able heart sometimes prevails against a qualified soul. Inspired by his mother to write inspirations to others, Be Still…and know that I am God (published by WestBow Press) is a book of devotions for each day of the year to encourage, inspire and improve the lives for all.
While Be Still…and know that I am God discusses such topics as fear, love, joy and peace, ultimately it teaches its readers about God's unconditional love.
"What I hope to convey is what I refer to as the K.I.S.S. principle: Keep It Simple Salvation," says Mashburn. "I take each verse and simply talk about what it says to me – an ordinary, everyday guy."
Be Still…and know that I am God encourages readers to trust God on a day-to-day basis. Writing in a conversational tone, Mashburn reflects on various scriptures, giving readers a bird's eye view of how faith can empower one's life. He notes, "My intent is to encourage the reader to seek God and the path He would have them travel, emphasizing that each of us has a part in God's greater scheme."
About the Author
Charles L. Mashburn has spent most of his life working in the commercial construction industry, starting out as a laborer and working his way up to project superintendent. He has recently retired and now spends most of his days writing. He has written many crime novels, short stories and poems. He is often recognized for his poem "Pennies from Heaven," written in 1998. Be Still…and know that I am God is his third self-published book. He has been married to wife, Sherry, for 15 years. Both of them accepted Christ as their savior at young ages.
WestBow Press is a strategic self-publishing alliance of Thomas Nelson, the world's premier Christian publisher, and Author Solutions, Inc. (ASI)—the world leader in the fastest-growing segment of publishing. For more information, visit westbowpress.com.
# # #