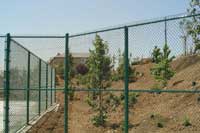 Riverside-San Bernardino, CA (Vocus/PRWEB) January 12, 2011
Melvin Kay, owner of Golden State Fence Company based in Riverside, California, is committed to American products and workers, and he puts his money where his mouth is. Golden State Fence Company just finished an expansion that allows them to weave chain link products in the United States, rather than relying on international suppliers. This allows them to provide products to their clients that are both manufactured and assembled by American labor.
When asked about the need for this, Melvin Kay said, "Americans need to support one another as much as possible for our country to grow and thrive in difficult economic times. My company is committed to that, and we realized that relying on imported goods to supply our customers with quality fencing just was not a good idea. So we decided to invest our money in our local economy by expanding our facility, creating jobs, and providing an American-made product."
The new machinery cost over 1 million dollars to add, and in order to do so effectively, Golden State Fence Company opened a new Fenceworks facility in Bakersfield on the first of November. The new facility, found at 7617 Meany Avenue, utilizes Bergandi machinery to weave and assemble the chain link fences that its installation crew installs for businesses and homeowners throughout Southern California.
The new facility also allows Golden State Fence Company to provide even greater flexibility to its customers. The Fenceworks facility can create chain link of all sizes for commercial, government, and residential needs. They have made fences for homes, prisons, stores, schools, and much more, and can install additional features like automated security gates and security additions like barbed wire along the top. The company offers not only chain link fencing, but also other types of metal, glass, vinyl, wood, and concrete fencing to its customers.
In addition to its installation services, Fenceworks and Golden State Fence Company offer a maintenance package that helps preserve fencing against the harsh reality of Southern California's weather. The maintenance program provides inspection, re-painting, touch-ups and repairs over a three-year period to ensure the fencing stands the test of time, even in a difficult environment.
The new facility in Bakersfield makes 10 total cities in Southern California to have Fenceworks facilities. Other cities include Riverside, Oceanside, Anaheim, Palmdale, Santa Paula, Brawley, Sacramento, Fresno, and Manteca. Customers in cities outside of these can also receive services.
About Golden State Fence Company
Golden State Fence Company is owned by Melvin Kay and is the parent company for the Fenceworks facilities in Southern California. Fenceworks provides all types of fencing and a variety of fencing products to commercial, residential, and government clients throughout the region. It has ten facilities in major cities throughout Southern California to serve its customers well. Customer's benefit from installation, maintenance, and repair services, and a newly opened facility allows Fenceworks to create some of its own materials using American labor. For more information visit http://www.fenceworks.us or contact the office at 951-788-5620, 870 N. Main Street, Riverside, CA, 92501.
# # #