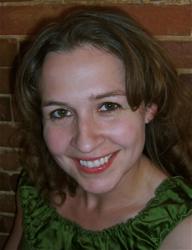 Besides being incredibly skilled and knowledgeable, she has an unwavering sunny and professional disposition that is infectious
Washington, DC (Vocus/PRWEB) January 11, 2011
Dr. Jen Faber, Clinical Director of Kinetic Health Alternatives, will be appearing at the Ultimate You Today 2011 Conference for Women and Networking Event as the alternative medicine expert. KHA offers a new, innovative approach to wellness in the workplace by providing mobile, on-site health care initiatives for corporations in the DC metro area.
A Wisconsin native, Dr. Jen Faber is changing the paradigm in which doctors and patients live by doing what the industry doesn't – forming a partnership with her patients that provides direct accessibility to mobile health, preventive medicine and natural healing techniques, with no waiting time or waiting room. Her focus on being proactive and utilizing preventive health strategies to enhance the overall well-being of her patients is what prompted Dr. Shari Hall, the visionary behind Ultimate You Today, to invite her to be a presenter at the conference. "Dr. Faber and KHA bring the values of old-school medicine into the 21st century by connecting directly with patients and teaching them simple, effective, life-enhancing strategies they can implement daily and improve their lives immediately," a major theme at the Ultimate You Today event.
Dr. Faber provided on-site care at the Lady Gaga Monster Ball in DC last September, and in the year since its inception, KHA has created progressive wellness programs for members of the Washington Ballet, Long & Foster, several Olympic competitors and many area tri-athletes. Carrie Regan, VP of Development at National Geographic Television, a triathlon runner, and a patient of Dr. Faber's since 2008 said, "Besides being incredibly skilled and knowledgeable, she has an unwavering sunny and professional disposition that is infectious."
As a featured speaker at the upcoming UYT 2011 Conference, Dr. Jen will focus on pain. Because pain is the most common symptom that prompts people to seek health care, Dr. Faber believes education on pain management and the prevention of musculoskeletal pain and repetitive stress injuries is important. "On an annual basis, the average employee managing chronic musculoskeletal pain could potentially miss 10 to 20 workdays each year with a cost to American employers of more than 60 billion dollars," says Dr. Faber. "We believe that your time is valuable, as is the investment it takes to nurture good health."
The Ultimate You Today 2011 Conference for Women and Networking Event will be held on February 5, 2011 at the Washington Post Conference Center in Washington DC. Tickets are available now at http://www.ultimateyoutoday.com.
# # #