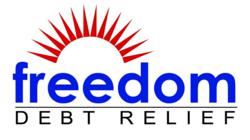 Small economic improvements might not be enough to support sharply higher spending levels. Be careful to sustain any good habits developed during the past few years and not charge headlong into debt.
San Mateo, Calif. (Vocus/PRWEB) January 11, 2011
Recent holiday retail results indicated that consumers are opening their wallets again – a trend supported by new data that shows more Americans are working, income is up and consumer debt is the lowest in five years, according to the Freedom Debt Relief Quarterly Comment on consumer debt and credit issues.
"From an economic perspective, it is encouraging to see consumers spend more at the holidays than in the past two years," said FDR vice president Kevin Gallegos. "However, even though unemployment is down and personal income is up slightly, that level of spending is a concern for people who might have simply added holiday spending to a worrisome debt load."
FDR co-founder and CEO Andrew Housser noted that consumers spent 5 percent more during the 2010 holidays than during 2009 – but that the unemployment rate is less than half a percentage point lower, and personal income only increased by a similar amount. "These small improvements might not be enough to support sharply higher spending levels," he explained. "Consumers need to be careful to sustain any good habits they developed during the past few years and not charge headlong into debt."
A summary of statistics from recent financial reports includes:
1. Total consumer debt continues to decline. Newly released Federal Reserve Board statistics show the total U.S. consumer revolving and non-revolving debt burden in November was just under $2.4 trillion (excluding mortgage debt), its lowest rate since February 2007. Consumers' total debt burden is 7.2 percent lower than one year ago. Additionally, the household debt service ratio (estimated ratio of debt payments to disposable income) reached 11.89 in Q3 2010, down more than two points from its high of 13.96 in Q3 2007.
2. Revolving debt is at its lowest level since 2005. Consumer revolving debt – which includes credit cards – was $796.5 billion in November. This continues the trend that began in August 2008, with revolving debt falling every month for 25 straight months. During that period, it has declined by more than $177 billion, or more than 18 percent.
3. Non-revolving credit is rising. Throughout the past few years, consumer non-revolving debt – which includes auto and RV loans, education loans, etc. – has risen and fallen, but in late 2010 the trend appeared to be upward. In November, non-revolving debt increased at an annual rate of 4.2 percent.
4. Personal income increases. The Bureau of Economic Analysis (BEA) reports that personal income rose 0.3 percent in November, increasing by $42.3 billion. Disposable personal income (DPI) increased by the same percentage. In October, personal income rose by 0.4 percent, and DPI rose by 0.3 percent, a welcome change after flat personal income in September and a decline in DPI by 0.1 percent that month.
Personal consumption expenditures (PCE) increased 0.4 percent in November and 0.7 percent in October, marking five months of positive PCE after flat PCE in June. "People are beginning to spend again, even while they pay off debt," Housser observed. "While this trend could indicate a tentative recovery for the economy, we urge consumers to stay on course paying down their debt."
5. Employment numbers slightly improved. During December, the U.S. unemployment rate fell by 0.4 percentage points to 9.4 percent – the lowest rate in 19 months – after edging higher to 9.8 percent in November. That means that 556,000 more people found work, bringing the number of unemployed Americans to 14.5 million, down from 15.2 million a year ago. "It is a bright spot to see more Americans going back to work," said Gallegos. "Regaining employment is the first step for people who need to get control of their debt problems."
The FDR Quarterly Comment pulls together significant statistical releases and provides quarterly comment on timely debt and credit issues that matter to consumers. To schedule an interview with Kevin Gallegos or Andrew Housser, contact Aimee Bennett at 303-843-9840 or aimee@faganbusinesscommunications.com.
About Freedom Debt Relief (http://www.freedomdebtrelief.com)
Freedom Debt Relief provides consumer debt resolution services. Working as an independent advocate for consumers to negotiate with creditors and lower principal balances due, the company has resolved more than $1 billion in debt for nearly 100,000 clients since 2002. The company is a charter member of The Association of Settlement Companies and a platinum member of the International Association of Professional Debt Arbitrators. FDR holds the Goldline Research Preferred Provider certification for excellence among debt settlement companies.
Freedom Debt Relief is a wholly owned subsidiary of Freedom Financial Network, LLC (FFN). Based in San Mateo, Calif., FFN also operates offices in Sacramento and Tempe, Ariz. The company, with more than 500 employees, was voted one of the best places to work in the San Francisco Bay area in 2008 and 2009, and in the Phoenix area in 2008, 2009 and 2010. FFN's founders received the Northern California Ernst & Young Entrepreneur of the Year Award in 2008.
###