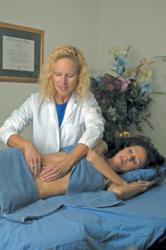 "You succeeded in breaking adhesions that blocked my tubes and in such a short amount of time. The tests confirm this and I was even able to achieve a pregnancy all because of your remarkable work"
Gainesville, FL (Vocus/PRWEB) January 12, 2011
On January 17, 2011, Lifetime TV's, The Balancing Act, will examine the controversial book, Miracle Moms, Better Sex, Less Pain and its claims that a hands-on physical therapy helped hundreds of women overcome infertility. Hostess Danielle Knox will discuss this breakthrough fertility treatment, called the Wurn Technique®, with Larry and Belinda Wurn, book authors and developers of the therapy. The book contains dozens of stories from infertile women who became pregnant naturally after receiving the hands-on technique. This all-natural method uses neither surgery nor drugs, and also relieves pelvic and intercourse pain that plague millions of women, the authors said. Knox will examine their book as part of Lifetime's author interview series.
In peer-reviewed medical journals, the therapy has shown promising results increasing fertility and opening blocked fallopian tubes. Doctors from Harvard, Columbia and Northwestern medical schools have touted the book and therapy as a valuable resource for consumers and medical professionals.
During the interview, the Wurns share the story that led to the discovery of their innovative non-surgical treatment for infertility. They found adhesions were a common factor in their infertile patients, and developed this method to decrease them. "Adhesions form naturally when the body heals from surgery, trauma, or infection," Belinda said. "They can act like glue, binding organs and tissues together, and causing pain and infertility." Because they are difficult for physicians to diagnose and treat, many women are unaware that adhesions can contribute to blocked fallopian tubes, infertility, endometriosis, pelvic and tailbone pain – and even abnormal hormone levels.
The book contains study results and stories from more than 80 patients about success overcoming pain and years of infertility following treatment at the Wurns' "Clear Passage" clinics. "You succeeded in breaking adhesions that blocked my fallopian tubes. The tests confirm this and I was able to achieve a pregnancy because of your remarkable work, "said Clear Passage patient Melissa Gonzales.
"We were initially surprised that the therapy could make such dramatic improvements without drugs or surgery," Larry Wurn said. "The success of Clear Passage continues through the changed lives of countless women who visit our clinics from all over the world."
The Wurns began to develop their work in the 1980s, after Belinda contracted cancer. The surgery that saved her life seemed like a Godsend at the time. But a year later, the adhesions that formed after the surgery left her in debilitating pain. Desperate to find a solutions to the pain Belinda and her husband, Larry Wurn, began exploring non-surgical treatments to give Belinda her life back.
"My doctors said there was nothing they could do about the pain," Belinda said. "At 30 years old and newly married, I could not accept that I would be crippled by pain and adhesions for the rest of my life. We had no idea that the therapy we developed to treat me would help so many infertile women."
###