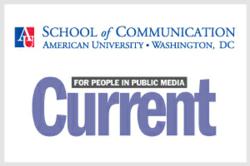 Washington, D.C. (Vocus/PRWEB) January 12, 2011
American University's School of Communication is the new steward of Takoma Park, Md.-based Current newspaper and its Web site Current.org, effective January 1, 2011.
American University assumed stewardship from WNET, the premier public media provider in the New York City metropolitan area and former Current steward, after both organizations' boards of trustees approved of the deal.
Costs of the transition to American University are funded in part by a grant from the Wyncote Foundation of Philadelphia, Pa.
Current, published continuously since 1982 under the stewardship of WNET, is the sole, editorially independent news medium and forum for public television and radio—including PBS, NPR, and their member stations—an industry that, according to the Corporation for Public Broadcasting, reported U.S. gross revenues of $2.6 billion in 2009.
"As we looked at how trade papers are branching into new platforms, and how Current is poised to grow as the leading independent trade journal for public media in America, we felt it was important to find a home that could provide greater strategic support for Current's future than WNET, which is focused on providing public television and educational programming in New York and nationally," said Neal Shapiro, WNET's president and CEO.
AU's School of Communication plans to grow and develop Current by expanding its editorial capabilities and digital presence. The school, a laboratory for the future of public media, is the perfect home for Current.
"The transition of Current's stewardship to American University's School of Communication reinforces the very strong work in public media in our centers and institutes," said Larry Kirkman, dean of AU's School of Communication. "Current's digital expansion will be a laboratory for faculty and students who will contribute to research and reporting; design and production; and sales, marketing, and advertising. As baby-boomers retire, our students can become the culture changers and innovators in public media."
AU School of Communication's public media initiatives include:

Led by Pat Aufderheide, the Center for Social Media served as the intellectual hub for a 5-year $50-million Ford Foundation program, "Global Perspectives in a Digital Age: Transforming Public Service Media." Its Public Media 2.0: Dynamic, Engaged Publics, is a blueprint for public broadcasting in the digital age. Twice this year, the center has hosted the National PublicMediaCamp—cosponsored by PBS and NPR—bringing together hundreds of innovators in public broadcasting.
Led by Charles Lewis, the Investigative Reporting Workshop is a producing center for PBS' flagship documentary series FRONTLINE.
Through the Center for Environmental Filmmaking, led by Chris Palmer, students have produced EcoViews, an Emmy-award winning documentary series about Chesapeake Bay conservation, for Maryland Public Television.
J-Lab: The Institute for Interactive Journalism, led by Jan Schaffer, is working with public stations in its projects that provide grants and resources for innovation, including San Francisco's KQED public radio in the Knight Foundation-funded Networked Journalism program and Philadelphia's WHYY public television in the William Penn Foundation-funded Philadelphia Enterprise Reporting program.
Under the stewardship of American University, Current will continue to exercise editorial independence and will be committed to a period of strategic planning to explore editorial expansion, governance structure, operations/technology upgrades, and a new business model.
The Wyncote Foundation supports efforts that strengthen and enrich culture, community and the natural environment. Founded in 2009 with funds from the Otto and Phoebe Haas Charitable Trusts, the Foundation makes grants in a broad range of areas. Currently, public media and journalism is an area of special focus for the Foundation.
For 30 years, Current has been the newspaper about public broadcasting in the United States. It is read by people involved in public TV and public radio—station employees, independent producers, local volunteers and board members, viewers and listeners, state and national policymakers and others.
WNET.ORG, the premier public media provider of the New York City metropolitan area, is a pioneering public media institution universally recognized for the intelligence, integrity, innovation, and inspiration of its programs and initiatives. The parent of THIRTEEN, WLIW21, and Creative News Group—which produce acclaimed content for broadcast television and the Web—WNET.ORG serves its community with unique programming and educational projects through an array of channels. In all that it does, WNET.ORG pursues a single, overarching goal—to deliver media experiences of lasting significance for New York, America and the world.
American University's School of Communication is a laboratory for professional education, communication research, and innovative production across the fields of journalism, film and media arts, and public communication. The school's academic programs emphasize traditional skills and values while anticipating new professional roles, media services, and technologies.
###