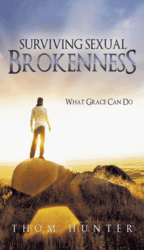 Norman, OK (Vocus/PRWEB) January 13, 2011
The Christian church and homosexuality have a complicated relationship, and recent events have made it even more confusing. "Don't Ask, Don't Tell" was repealed less than a month ago, six states now allow gay marriage and Christians and church leaders alike are left scratching their heads comparing what culture is telling them to what God instructs.
Thom Hunter's new book Surviving Sexual Brokenness: What Grace Can Do (published by WestBow Press) is here to help those struggling with their own sexual brokenness or confusion, as well as help those affected by the struggles of the people close to them. "Many who struggle with a form of sexual brokenness create an unwelcome double life: unacceptable to self, abhorrent to everyone else," Hunter said.
Surviving Sexual Brokenness has the unique aspect of being written by someone who has personally struggled with sexual identity issues and found freedom and wholeness through the healing grace of God. "My desire is to use the experience of sexual brokenness – a dominating temptation of unwanted same-sex attraction – and the double life I lived as a husband, father, church, civic and business leader to serve as a cautionary tale of hope for other Christian men and women. I also want my experience of overcoming to offer hope and practical help," Hunter said.
Other important questions Hunter hopes to answer for readers in Surviving Sexual Brokenness include:

Can you really walk free of homosexuality?
Did God make me this way? If He didn't, then why is it so hard to change?
What should you say to a loved one who says "I am gay?" How can you avoid the consequences of harsh judgment or careless compassion?
How is the epidemic of pornography addiction affecting families?
How can you approach church leaders who deny that sexual brokenness is prevalent in our churches and among Christians?
The insight and advice offered in this book proves there is hope after the devastation sexual brokenness can bring upon one's life, family and reputation. It demonstrates that, with grace, the Christian can eventually turn from their destructive path in the secret world of anonymous same-sex relationships, pornography, extramarital affairs or masturbation, to fulfillment through a relationship with Christ.
About the Author
Thom Hunter is a full-time writer and author. He blogs at Signs of a Struggle (http://thom-signsofastruggle.blogspot.com). A retiree since 2009 after 20 years at AT&T as the chief of staff in the Oklahoma Division president's office and as director of public relations, he is married to his wife of 35 years, Lisa, with whom he has five children and seven grandchildren. Organizations he belongs to include First Southern Baptist Church of Del City, the Southern Baptist Convention Task Force on Homosexuality, University of North Texas Baptist Student Ministries Alumni and Exodus International. This is his third book.
WestBow Press is a strategic self-publishing alliance of Thomas Nelson, the world's premier Christian publisher, and Author Solutions, Inc. (ASI)—the world leader in the fastest-growing segment of publishing. For more information, visit westbowpress.com.
###