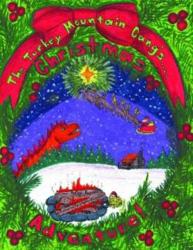 Callands, VA (Vocus/PRWEB) January 13, 2011
A new generation of fearless children will embark on a fantastical adventure and carry on their grandfather's tradition of exciting exploits in The Turkey Mountain Gang's…Christmas Adventure! (published by AuthorHouse), the latest children's book in the charming Campfire Tales series written by Carl Reynolds and illustrated by his daughter, Sherry R. Moschler.
Readers familiar with the Campfire Tales already know that Grandpa Lefty has led a pretty interesting life. He's made friends with ghosts and flying mules, and he even had to escape from a Tyrannosaurus rex growing up on the farm on Turkey Mountain in Virginia. Lefty's grandchildren have always enjoyed hearing about his daring escapades and long to experience the thrill for themselves. As the years have passed, the time has come for him to pass the torch on to Lindsey, Jackson, Emma and Luke as they form a new generation of the Turkey Mountain Gang, and this latest tale will have them embarking on a brand new adventure of their own.
It's Christmas Eve, and Turkey Mountain is white and glistening, covered in deep snow drifts. It's perfect sledding weather, and that's exactly what the Gang heads out to Double Oaks Gap to do. Accompanied by their four Labradors, the children are enjoying themselves, looking forward to the upcoming Christmas festivities in spite of the bitter cold. Their carefree frolicking is interrupted when Lindsey hears someone calling them from the sky.
The voice belongs to none other than the flying mule himself, and who should be riding him but Stich Grinney, Grandpa Lefty's trusted ghost friend! Although they are filled with excitement to finally meet the two creatures, the Turkey Mountain Gang knows something is amiss when they see the grim look on Stich's face.
The mule and Stitch quickly fill the Gang in. Tyrone the T-Rex is back, and, along with the help of his friend, Bigfoot, he's going to stop Santa Claus from delivering presents, determined to ruin Christmas forever. The ghost breathlessly describes seeing Tyrone and Bigfoot kidnap Santa, his reindeer and his sleigh filled with presents, watching helpless from above and unable to warn Santa before it's too late.
Facing a new foe with familiar allies, the Turkey Mountain Gang knows it's up to them to save Santa Claus. Will they succeed? Or will the children of the world wake up on Christmas morning to discover that Santa never came? Find out in Reynolds' latest Campfire Tale, a holiday story accompanied by colorful illustrations that will delight young readers and listeners alike.
About the Author and Illustrator
Carl Reynolds and his wife, Kathy, live on a farm near Turkey Mountain in Virginia. Both are retired, but four grandchildren, three dogs and a love of the outdoors take up most of their free time. Sherry R. Moschler, the illustrator, is Reynolds' daughter. She also lives on Turkey Mountain with her husband, two children and a veritable zoo of different animals. Together, father and daughter have published Turkey Mountain Gang: The Adventures Begin and Why Frogs Have No Hair (also published by AuthorHouse).
AuthorHouse is a premier book publisher for emerging, self-published authors. For more information, please visit http://www.authorhouse.com.
###