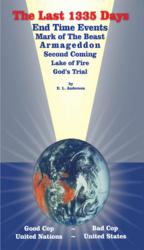 (Vocus/PRWEB) January 13, 2011
In an unprecedented feat of scholarship, author Everett L. Anderson presents a detailed time frame and sequence of events for the last 1335 days of earth's history before the Second Coming with his new theological nonfiction book, The Last 1335 Days: End Time Events, Mark of the Beast, Armageddon, Second Coming, Lake of Fire, God's Trial (published by AuthorHouse).
Sound reasoning, biblical proof and simple language come together to make The Last 1335 Days one of the more convincing studies of the events of the Revelation in recent time. A dedicated missionary in China, Anderson spent 15 years researching the biblical and academic merits of the meaning and message of what is considered to be "the End Times." His conclusions are collected in The Last 1335 Days, providing intriguing insights into the trial of God, the distinction between the second and third coming in biblical text, the fate of the "Never Sinned", "The Saved", and "The Lost"; and the final signs of history's last days. Describing events from the beginning of sin to the end of all sin, Anderson addresses some of the most pressing concerns for most readers:
Everyone wants to know "How soon is soon?" It will depend on how fast the United Nations changes from being a peace keeping force to a police force. Then when people around the world are saying 'peace and safety', sudden destruction will come. The only vehicle that can provide so called world safety from terrorists and bad dictators is the United Nations, whose real power comes from the USA of course. After the sudden destruction there will be 1335 days until the Second Coming of Christ.
Firmly grounded in biblical foundations, The Last 1335 Days takes readers on an epic journey that will inform, assure and illuminate the events of the last days and how to ensure their eternal lives. In a moment where the earth is quite clearly on the precipice of change, The Last 1335 Days is a valuable resource for believers and non-believers alike.
About the Author
Everett L. Anderson was born in Alberta, Canada. He has spent 7 years in China as a devoted missionary.
AuthorHouse is the leading provider of self- publishing, marketing, and bookselling services for authors around the globe. For more information, visit http://www.authorhouse.com.
###