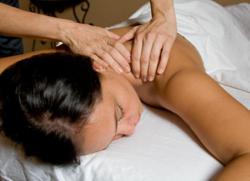 I've been going to Dr. Drew for more than 6 months and it was the best decision I could have made for my well being.
Tempe, AZ (Vocus/PRWEB) January 17, 2011
Richetto Chiropractic and Rehabilitation, or RCR, has recently merged with the California Collision and Injury Institute. Although based in California, CCII has extended its company into the Greater Phoenix area. With this new relationship, RCR patients now have access to Medical Doctors which will be available at the RCR office on specific scheduled days of the month. This effectively and conveniently broadens the array of health care services available to existing RCR patients. Later this year, they will be adding a Licensed Physical Therapist as part of their staff. This merger will be a great improvement for RCR patients this year.
Just two weeks into the New Year, resolutions have likely been made and possibly broken. According to surveys, only 8 percent of Americans successfully achieve their New Year's resolutions. A whopping 45 percent fail by the end of January!* Year after year, taking better care of your body is always one of the top ten New Year's resolutions. This year, keep your resolution by turning over your rehabilitation needs to Richetto Chiropractic and Rehabilitation a Tempe Chiropractor. They focus on a higher standard of quality care through offering their patients on-site medical doctors, and a unique one-hour therapy session that will detect, diagnose, and treat the regions of the body that are causing dysfunction.
"I've been going to Dr. Drew for more than 6 months and it was the best decision I could have made for my well being. As a Realtor, the stress of my work both physically and emotionally took a toll on my body. Since the start of my treatment, I have never felt better." – Pam L. Chandler, AZ
Often, a lack of knowledge keeps people from accomplishing their goals. At Richetto Chiropractic and Rehabilitation they have done the homework, so anyone who walks through their doors doesn't have to. They are skilled and licensed massage therapists, who are trained in neuromuscular re-education, Myofascial Release, reflexology, and other techniques to insure that their clients get the best treatment possible. Their main goal at RCR is to restore clients back to functional wellness.
The first step to restoring one to optimum health is an accurate diagnosis. This allows the appropriate treatment protocol to be administered. One can expect a specific treatment plan and protocol to be assigned to them at RCR. For symptoms stemming from an auto accident to sports injuries, they create a personal treatment plan tailored for specific conditions.
Dr. P. Andrew Richetto is the owner and founder of Richetto Chiropractic and Rehabilitation, also known as RCR. He first received his Bachelor's in Business, and was in route to obtain an MBA when his own visit to an experienced chiropractor altered his decision. Having suffered from lower back pain since youth, Dr. Richetto received his first chiropractic adjustment at the age of 19. This was his first real taste of relief in over 4 years of pain. After his chiropractor was also able to heal his TMJ problems, he permanently altered his vocational course.
With his own experience and passion for helping others, he sums up the care that is given at RCR as, "a fanatical focus on doing one thing well… listening to my patients." This year, keep your New Year's resolution to improve your health by visiting Dr. Richetto at RCR.
*http://www.pr9.net/games/consumer/3207december.html
###