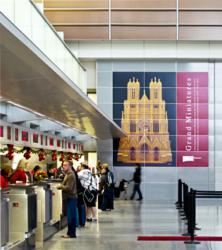 It is the magical way in which they (architectural miniatures) are poised, somewhere between the world we know and the world we make in our imaginations, that makes them so compelling - Paul Goldberger, Pulitzer Prize - winning architecture critic
San Francisco, CA (Vocus/PRWEB) January 13, 2011
Magnificent 19th century architectural models are the focus of a new exhibition at San Francisco Airport. "Grand Miniatures: 19th Century Souvenir Buildings from the Collection of Ace Architects" has just opened in the International Terminal. The World's Most Popular Tourist Destinations have changed little since the 19th century - Paris, Rome and London still head the list.
Like Hollywood Boulevard on Oscar night, everyone who's anyone is here. Nearly every celebrity building and monument popular enough to be made into a replica for 19th century tourists is represented.
These exquisitely detailed models are cast in silver, brass, and bronze, in some cases guilded in gold; and carved from an array of Italian marbles, English Serpentine, and other beautiful stones. Serving a broad set of functions – from clocks of gilded bronze, to inkwells of bronze and brass, to velvet-lined bronze boxes, to metal cigar cutters, and even including a miniature marble sarcophagus - they tell of the 19th century's style of life. Elegantly displayed in illuminated cases, with lively stories and descriptions of both the models and the full-sized landmarks they represent, this show is both a visual feast and a window into the 19th century.
The Grand Tour, originally undertaken with great difficulty by young, largely aristocratic, Englishmen (and a few women) in the 17th and 18th centuries, evolved into a much larger scale phenomenon in the 19th century. With the advent of railroads and a rising middle class, Grand Tourists came from America as well as around England and Europe to learn about and absorb the culture and history of Europe's great cities. A lengthy stay in Italy and especially Rome was often the high point of the Tour.
How appropriate, then, to find an exhibit of these splendid early souvenirs, telling of the origins of modern tourism, in the International Terminal of San Francisco Airport! Ace Architects, who loaned the collection to the SFO Museum, has provided a lavish on-line catalogue giving history and details of many of the pieces.
A stroll through this exhibit reveals shifts in both the popular architectural styles, and in the tastes and budgets of tourists as the 19th century progressed. The large, expensive and elaborate clocks of the early 19th century have, by century's end, given way to more mass produced, easy to transport, and affordable replicas. The majority of these landmarks still hold great power for today's tourists, and their (more humbly made) models are still sold.
There is no need for a ticket to attend this gathering of celebrity buildings. Located in the public lobby of the San Francisco International Terminal, it's open 24/7, and never too crowded. If you're longing to get away, or just in a 19th century mood, head over to the airport, and take a little tour of "Grand Miniatures: 19th Century Souvenir Buildings from the Collection of Ace Architects".
###