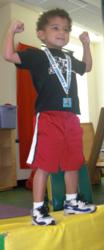 "While the recent (children's nutrition) bill is a great step in starting a change, I am afraid it will take more to make a large impact on the health of our children."

- Kelly Sorenson, Director of Power Tots, Inc. Gymnastics, Dance, and Yoga
Washington, DC (Vocus/PRWEB) January 14, 2011
It's no secret that nutrition has a direct impact on one's overall health. Children who follow good nutrition incur many benefits, says the National Institute of Diabetes and Digestive and Kidney Diseases (NIDDK), part of the National Institutes of Health, on its Weight Control Information Network. These children will benefit from having a healthy weight, avoiding obesity and obesity-related diseases, having more energy, building stronger bones and muscles, and developing more positive feelings about themselves.
According to the Centers for Disease Control (CDC), children who follow good nutrition can avoid obesity, which increases the risk factors for cardiovascular disease such as high cholesterol or high blood pressure. In addition, children and adolescents who are obese are at greater risk for bone and joint problems, sleep apnea, and social and psychological problems such as stigmatization and poor self-esteem. Obese youth are more likely than youth of average weight to become overweight or obese adults, and therefore more at risk for associated adult health problems like heart disease, type 2 diabetes, strokes, several types of cancer, and osteoarthritis. In addition, poor nutrition has also been known to exacerbate the symptoms of ADD/ADHD and cause tooth decay.
Many things are being done to address the future health of today's children. On December 13, 2010, President Barack Obama signed the Healthy, Hunger-Free Kids Act of 2010 into law. The legislation "will finally put us on a path toward improving the health of the next generation of Americans, providing common-sense solutions to tackling childhood hunger and obesity," said Senator Blanche Lincoln, chairwoman of the Senate Agriculture Committee, in a prepared statement for an August 5, 2010 New York Times article. "In this budget environment, with record deficits, we have been able to produce a bill that is fully paid for and will not add a dime to the deficit."
"The Senate bill changes the school food landscape in ways that are all positive," said Michael F. Jacobson, executive director of the Center for Science in the Public Interest, in a press release. "Put simply, it will get junk food out of, and put more healthy food into, America's schools. It preserves the free and reduced-cost meals that many families depend on in an economic downturn."
Not only are things changing for the better on the federal level, but programs that are designed to teach children about the importance of diet and exercise are popping up all over the nation. Programs like the Maryland-based Power Tots, Inc. are great because they teach children to associate healthy activities with having fun.
Kelly Sorenson, Director of Power Tots Inc., stated, "While the recent bill is a great step in starting a change, I am afraid it will take more to make a large impact on the health of our children. The bill when broken down looks to only add a small amount to school lunches, which will not be enough to provide fresh, local, non-processed food. We should continue to focus on physical activity in addition to better food choices and nutritional education for our children. It is difficult for adults to make good food choices with the knowledge of the health implications, so we can't expect children to be able to make healthy choices if they are not aware of what is considered healthy."
Power Tots, Inc. offers gymnastics and yoga programs for children 18 months to 12 years of age and each of these programs incorporates nutrition education into their curricula. Power Tots programs can be found at preschools, daycare facilities, elementary schools, parks and recreation departments, or any venue where children are gathered. In addition to teaching gymnastics and yoga, the instructors of Power Tots promote daily exercise and healthy eating habits. Each program contributes to the development of a child's fine and gross motor skills and promotion of overall physical and emotional well-being. The Power Tots mantra is: "Believe in the power of a positive attitude!"
Power Tots programs are regularly taught in over 40 centers in the Washington Metropolitan area to over 1000 children and have recently started franchising nationwide. For more information, visit: http://www.powertotsinc.com.