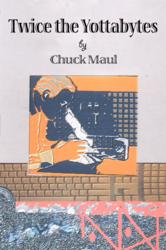 Austin, TX (Vocus/PRWEB) January 14, 2011
Twice the Yottabytes, a new book by Charles Maul, has been released by RoseDog Books.
A missing prototype supercomputer, a missing genius who developed it, and a race against time to solve the mystery are faced by an entire industry, the academia, the police force and, quite possibly, mankind.
In Twice the Yottabytes, Detective Dan Brandon sets out to confront a mystery involving a kidnapping—one that could very well end up being just a childish prank, a stolen lucrative nanotechnology that could reproduce most food, or a series of murders in the wake of the disappearances.
Everything is hanging in the balance. The fate of a once-bright future depends on Detective Brandon. Will it ever be bright again?
Chuck Maul earned his bachelor's degree in psychology and sociology at Eastern New Mexico University and master's degree at University of Toledo with a major in vocational education. A retired teacher and counselor, Chuck wrote his book to encourage the youth to explore the world of science and technology and engineering for the betterment of society.
Twice the Yottabytes is a 32-page paperback with a retail price of $9.00. The ISBN is 978-1-4349-0820-9. It was published by RoseDog Books of Pittsburgh, Pennsylvania. For more information or to request a review copy, please visit our virtual pressroom at http://www.rosedog.com/pressroom or our online bookstore at http://www.rosedogbookstore.com.
# # #