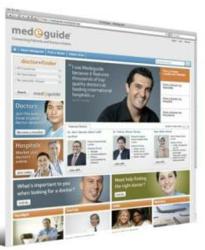 (Vocus/PRWEB) January 17, 2011
Medeguide Holdings announces today the launch of its redesigned website. The new site makes it easier for consumers to find top-flight doctors at leading international hospitals by country, hospital, specialty or procedure.
First launched in July 2009, Medeguide currently features over 2,500 doctors from more than 30 international hospitals in 10 countries. The site was founded by Ruben Toral, former Marketing Director for Bumrungrad International hospital and a leading consultant on medical travel.
According to Mr. Toral, the redesigned site has a host of new features that include new ways to search for doctors, the ability to recommend favorite doctors, links to social media sites and a completely new editorial section. He describes the redesigned Medeguide site as "Dr. Oz meets Trip Advisor for patients".
"People everywhere are the same," Toral says "they want a trustworthy site where they can search, find and connect with top medical specialists, read recommendations about doctors from other patients, and request appointments. Medeguide does that."
With the surge in global medical travel, Medeguide has proven to be an effective marketing channel for doctors and hospitals looking to attract patients from abroad. The site is also popular among English speaking expatriates living in Asia and Latin America, who need guidance finding top quality physicians in their area.
Medeguide CEO, Simon Clarke, says that he expects the site to have around 7,000 doctors from 20 countries on the site by year end. He notes that 60% of Medeguide's users are local patients looking for local doctors while the remaining 40% are regional patients or medical tourists looking for international specialists.
ABOUT MEDEGUIDE
Medeguide is a web portal that helps patients connect with doctors online. The site provide consumers with a one stop solution to search, find and connect with qualified doctors, locally and globally, at leading international hospitals worldwide.
###