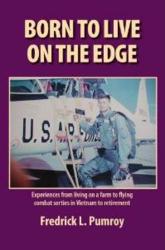 FAIRBORN, Ohio (Vocus/PRWEB) January 15, 2011
"I never knew the life experiences of my father or grandfather and have been sorry I didn't sit down and ask them to tell me." How many of us can relate to this all-too-common sentiment? Unfortunately, by the time we feel that regret, it's sometimes too late to ask, and we find ourselves wishing that there were some formal account of the lives of previous generations. After all, to understand where we are going, it's imperative to know where we came from. Here to share his legacy so that his descendents don't find themselves wondering who he was is Fredrick L. Pumroy with his new autobiography, Born to Live on the Edge (published by Trafford Publishing).
Born on a farm in Kouts, Ind., Pumroy graduated from high school there and went on to college at Ball State University, where he participated in a variety of extracurricular activities. Pumroy then married, joined the Air Force and entered pilot training, preparing for flights in upcoming combat missions in the Vietnam War. Other Air Force experiences included training with several four-star Air Force generals and four-star Navy Admiral McCain in Hawaii, during which time he reached the rank of Captain with more than 2,500 flying hours.
After several years spent at Ohio's Wright-Patterson Air Force Base, Pumroy went on to become the tanker task forward operation location commander during the Iranian hostage raid, eventually becoming promoted to lieutenant colonel before returning to the Midwest for more training and Air Force service.
Later chapters detail Pumroy's foray into the business world and the trials and tribulations that came with self-employment. He started a sole proprietorship company, Acquisition, Logistics, and Integration Consultants, working as a marketing representative for small businesses trying to acquire government contracts. He continued to enjoy flying as a private pilot and enjoyed keeping up on the latest trends in aviation.
Now an accomplished Air Force pilot and successful businessman, Pumroy went even further in his quest to achieve the American Dream as he entered local politics and was elected a city councilman in Fairborn, Ohio, subsequently retiring from the Air Force.
In conclusion, Pumroy states that "I have discussed some of the highlights and most significant experiences of my life. Now it is time to slow down and try to reduce my desire to experience dangerous situations. It is time to enjoy the company of my wife and children and to teach my grandchildren the basics of life." Take inspiration from this man's remarkable, relatable life stories in the captivating pages of Born to Live on the Edge.
About the Author
Now retired, Fredrick L. Pumroy has visited every U.S. state and each major country in the Pacific. He and his wife, Mary, plan to visit many more countries in the coming years. Born to Live on the Edge is his first book.
Trafford Publishing was the first company in the world to offer an "on-demand publishing service," and has led the independent publishing revolution since its establishment in 1995. For more information, visit http://www.trafford.com.
###