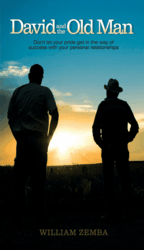 Castaic, CA (Vocus/PRWEB) January 15, 2011
Author William Zemba is proud to announce the release of his book David and the Old Man (published by WestBow Press). Inspired by his own family's past, Zemba presents a compelling account of the heartbreak that comes from watching a beloved brother battle disease, and the pain added by a father whose pride and stubbornness complicate family relationships. Zemba's story looks at his brother David's struggles with anorexia nervosa during the 1960s when little is known about the disease, the unwillingness of his father ("Old Man") to provide desperately needed compassion, and the role that God played in mending a broken family confused by the complexities of the illness.
The only way David could make sense out his life early on would be to control what he could. I don't remember the conversations, but I'm certain the Old Man forced his will upon David and that changed everything. The anorexia bubbled to the top, and the rest is history. How all this works, I still don't understand until this day. Controlling one's own eating habits to a point where you feel control of your situation may have helped, but the fear it produced to accomplish one simple act of eating a meal, ushered in more drama than the Old Man could handle. Whatever the Old Man directly said to David back then compelled him to go into a different direction. I believe David already had some sort of quirk in his dislikes for certain foods but the reality of this disease seemed foreboding. The anorexic tendencies started to surface. The confusion it would bring into two lives - and how to deal with it - was ominous.
The Old Man's frustration and infuriation with his first son's "bizarre" behaviors and threatening illness unleashed a 20-year battle within the family. Only when the family began to ask for help of an intervening God did the hopelessness of the situation begin to fade. This story, leveraging David's amazing strength to battle an overwhelming disease despite an unsupportive father, will give the reader spiritual hope and inspiration to help overcome his/her own struggles. The message of faith, salvation and family perseverance truly resonates.
About the Author
William Zemba has been a California-licensed contractor for 30 years and is the owner and operator of Bill Zemba Painting. He received his bachelor's degree in sociology from the University of San Diego. Zemba is a member of the Blessed Kateri Catholic Church. He lives in Castaic, Calif. with his wife and is the father of three boys.
WestBow Press is a strategic self-publishing alliance of Thomas Nelson, the world's premier Christian publisher, and Author Solutions, Inc. (ASI)—the world leader in the fastest-growing segment of publishing. For more information, visit http://www.westbowpress.com.
###