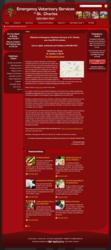 The goal of the website is to allow people to find our emergency animal hospital in St. Charles quickly, so that their pet can receive whatever care is needed as soon as possible.
St. Charles, IL (Vocus/PRWEB) January 19, 2011
In 2009, the ASPCA helped pet owners handle more than 140,000 cases where pets were exposed to toxic substances, including many regular household items or products. Thousands of pets experience some sort of emergency situation every year, but unlike humans, many pets don't have a pet emergency room of their own to go to if something happens when their regular veterinarian is out of the office.
In St. Charles, veterinarian Lynnette Greenwood and associates provides emergency veterinary care during the hours when most veterinary offices and animal hospitals in St. Charles and the surrounding areas are closed. She recently released an informative website to facilitate communication with new and current pet owners. Emergency Vet Services of St. Charles provides economical after-hours care for over 3000 pet patients a year in the Fox Valley and the surrounding areas. The clinic is open during nights, weekends and holidays and commonly sees pets from St. Charles, Geneva, Aurora, Batavia, Elgin, South Elgin, Downers Grove and other areas within a 20 mile radius from the practice location.
Dr. Greenwood states, "We understand that in a pet emergency, feeling helpless and not knowing what to do is excruciating. It's important for pet owners to stay calm in a pet emergency and to contact a licensed veterinarian or animal health professional who can advise them on the next best steps. Pet owners in St. Charles and the surrounding areas are encouraged to call the clinic at 647-584-7447 with any questions or concerns. Our staff will ask a few pertinent questions and will advise you on the apparent severity of your pet's condition and let you know precisely how to proceed."
Pet owners can easily access information about EVS via the practice website at EmergencyVetServices.com. The information includes hours of operation, contact numbers, a map and directions to the practice, as well as additional resources such as pet health topics, common emergency conditions and an ever evolving blog.
According to Dr. Greenwood, "The goal of the website is to allow people to find our emergency animal hospital in St. Charles quickly, so that their pet can receive whatever care is needed as soon as possible."
Dr. Greenwood has also included a page with common pet problems and solutions on website to help people easily find information about their pet's emergency. Many common pet problems don't need emergency treatment, and can be treated at home until the pet's regular veterinarian is available. However, there are some seemingly small problems that could be serious, so pet owners are advised to always call a veterinarian or animal hospital if they have any questions.
According to Dr. Greenwood, "Common emergencies range from a toenail being trimmed too short to pets being attacked by a coyote or hit by a car. EVS has veterinarians experienced with treating almost any pet or animal, including dogs, cats, rabbits, pocket pets, reptiles, birds, and ferrets. We offer referrals to known equine vets, and three of our four veterinarians are current or former equine practitioners and can knowledgeably advise on equine concerns."
Dr. Lynette D. Greenwood has provided emergency veterinary care to the pets of St. Charles and the surrounding community since 1992, continuing the tradition of the emergency center established there in the late 1970s at 530 Dunham Road. Like a human emergency room, EVS does not offer appointments. Walk-ins are the norm but people are encouraged to call before coming in so the necessary equipment can be set up awaiting your pet's arrival. Just as in the human ER the most serious life-threatened cases will take priority, and our staff can advise if the wait time will be long or short. Emergency vets can be reached at 630-584-7447 every night starting at 6:00pm until 8:00am every morning. In addition, EVS is open on holidays and opens every Saturday at noon until 8:00am Monday morning.
About the company: Emergency Veterinary Services of St. Charles offers after-hours medical, surgical, and post-operative care for pets and utilizes modern diagnostic equipment, including in-house CBC, chemistry and electrolyte analyzers, digital x-rays, digital ultrasound, and surgical and cage-side continuous ECG, BP, and oximetry monitoring. EVS patients also benefit from the use of IV pumps, syringe infusion pumps, IV fluid warmers, blood typing kits and transfusions, antifreeze poisoning tests and antidotes, animal-specific blood glucose monitors, an isolation unit and an in-house pharmacy.
###