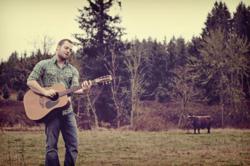 I have every intention of producing an album that glorifies these songs to the fullest and showcases my newfound confidence as both an artist and a producer.
Nashville, TN (Vocus/PRWEB) January 15, 2011
Amidst the waves of aspiring artists, there is one very unique singer/songwriter in Nashville that is breaking bigger than the rest. Tyler Stenson (29), is a standout singer/songwriter in Portland that recently relocated to the Music City and has turned heads in just a few short months. While the stakes get higher each year for Stenson, 2011 is off to a booming start and brimming with projects and promising opportunities for this up and coming artist.
Though he is currently located in Nashville, the great Northwest remembers Stenson as an award winning singer/songwriter and local celebrity. As a result, this regional clout has etched his name as a nominee for "Best Male Artist" in the 2011 Portland Music Awards. Votes have been collected and on January 28th, the most notable members of the Portland music community will join at the historic Crystal Ballroom where Stenson aims to be recognized as the top of his category.
In addition to this prestigious honor, Stenson was recently commissioned to write the theme song for Good Samaritans, an exciting new television series that is presently in pilot phase and being aired nationally on major networks such as ABC in Los Angeles and New York, DISH Network, DIRECTV and many more notable avenues.
While these exciting opportunities are unfolding, Stenson is not standing by with idol hands. In fact, he is currently in the recording studio co-producing a complete re-recording of his 2008 LP See That Gleam. With a few more years under his belt and Nashville's finest musicians as contributors, this re-invention of his former record boasts two never-before-heard bonus tracks and an infectious facet that eluded Stenson on the 2008 release.
"I've always felt that the songs from See That Gleam were amongst my best writing, however, I feel like the production did them little justice. I have learned so much since that '08 recording session and grown in ways I couldn't begin to explain. I have every intention of producing an album that glorifies these songs to the fullest and showcases my newfound confidence as both an artist and a producer."
All of this excitement surrounding Stenson and his music has not gone unnoticed. In fact, Music Connection Magazine, an industry authority on rising stars, recently featured a beaming article on Stenson and his captivating live performance at Hotel Café in Los Angeles.
"Holding an audience largely unfamiliar with you or your material is tough, but Stenson did an admirable job. The use of the dynamics is critical in an acoustic setting, and Stenson showed he's a master of contrasting quiet, intimate verse whispers with gripping, soaring choruses," says writer Dean Moore from Music Connection Magazine.
All of these exhilarating opportunities, coupled with his upcoming performance at the widely revered Bluebird Café in Nashville, TN on February 1st are proof that 2011 is a very promising year for this up and coming artist.
Tyler Stenson is a unique singer/songwriter in Nashville by way of Portland, OR. Known for his intelligent yet relatable lyrics and elegant folk styling, he has been twice-named Portland's Performing Songwriter of the Year (2007 and 2008), nominated for the Wyoming Governor's Art Award for his song about Wyoming and has released eight albums including Bittersweet Parade and Long Before the Wheel – both released in 2010.
# # #