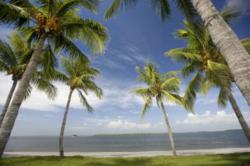 Sanibel Island, FL (Vocus/PRWEB) January 17, 2011
Well, the weather outside is frightful, but not on Southwest Florida's Gulf Coast. Florida is the only state that escaped the recent blizzards which consumed virtually all regions of our country; even Hawaii reported snow in Mauna Kea on the Big Island. With temperatures averaging in the mid-70s, Southwest Florida is the perfect place to flee the snow and ice. Waterstone Resorts & Vacation Homes, a premier provider of quality vacation rental accommodations in the most popular vacation destinations along Southwest Florida's Gulf Coast, is operated by a team that is "easy to warm up to." Known for its Southern hospitality, Waterstone provides the finest accommodations with an unmatched level of service. Leave those snow worries behind, and book one of their outstanding Southwest Florida vacation rentals today.
Our guests breathe a sigh of relief when they realize they've turned winter weather and dangerously icy roads into crystal-clear waters and shimmering white sands. Southwest Florida vacations offer the best quality beach experience! Waterstone's six distinct destinations each provide a different vacation experience. Waterstone Resorts features properties in Bonita Springs, Fort Myers, Fort Myers Beach, Naples, Captiva Island, and Sanibel Island, FL.
There are two types of Southwest Florida vacationers that stay in a Waterstone rental. The first is a bustling, sight-seeing, adventure guest that will love visiting a local hotspot like Naples or prefer staying in our Bonita Springs vacation rentals. These historic Gulf Coast cities offer an abundance of world-class shopping, dining, and outdoor sporting options, similar to a West Palm Beach vacation. The second is the more laid-back, "old- style Florida" vacation. This experience is found on Sanibel and Captiva Islands. These sister locations feature the charm and sophistication of days gone by. Waterstone holds the keys to a number of beachfront properties in both areas. Providing more than 15 miles of untainted beaches, 50 types of tropical fish, and 230 species of birds, both Sanibel Island and Captiva Island offer a Southwest Florida vacation where nature is the main attraction. Sanibel Island is home to the Ding Darling Wildlife Refuge, a 6,300 acre wildlife preserve. The island features a variety of cultural attractions, from art galleries and theatres, to museums and music festivals. Sanibel Island is a quaint destination boasting plenty of historic buildings and a vibrant past.
On Captiva Island, tourists will immediately notice a lack of crowded resorts and high rise hotels, as well as neon signs and stoplights. The island is under a strict city ordinance, stating that no building can be built taller than the highest palm tree, which happens to be 45 feet tall. This allows the beaches of Captiva Island to remain less-crowded and commercialized throughout the year. Those staying on Captiva Island will enjoy the simple pleasures of island-living, which include beach walking, swimming, shelling, and evading the cold, winter snow.
There's no better time to leave the stress and snow behind and book a vacation on Sanibel and Captiva Islands. Waterstone Resorts & Vacation Homes offers amazing Sanibel Island condo rentals specials for 2011. Book by January 31 and receive 20% off select vacation rentals. For more information, visit http://www.waterstoneresorts.com, or call toll free, 1-800-SANIBEL (800-726-4235).
###