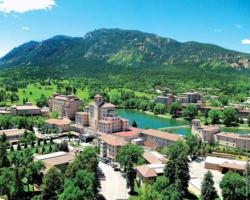 To have received this AAA Five-Diamond award for 35 consecutive years is really a testament to our superlative staff
Colorado Springs, CO (Vocus/PRWEB) January 14, 2011
The BROADMOOR resort in Colorado Springs, has once again been honored by the American Automobile Association with the coveted Five-Diamond Award for Excellence. The BROADMOOR has held the AAA Five Diamonds for 35 consecutive years; only three other US properties have had the prestigious designation for as long.
In addition, Penrose Room at The BROADMOOR was awarded the Five Diamonds for the fourth year running and still remains Colorado's only restaurant to hold both the Diamonds and the Forbes Five Stars.
"We are extremely honored to, once again, be the recipient of the AAA Five-Diamond award," said Stephen Bartolin, Jr., President and CEO of The BROADMOOR. "To have received this AAA Five-Diamond award for 35 consecutive years is really a testament to our superlative staff and speaks strongly to our commitment in providing the best in service to our guests - and to our community."
BROADMOOR Food and Beverage Director C.W. Craig Reed added, "Penrose Room has long been known as the premier dining destination in Colorado and this recognition from AAA cements that reputation of culinary and service excellence. We certainly appreciate the significance and prestige of this award and look forward to welcoming culinary enthusiasts to enjoy the unparalleled experience Penrose Room has to offer." According to AAA, the Diamond ratings represent a combination of the overall quality and the level of services offered by a property, as well as by a restaurant. These widely recognized and trusted symbols help AAA members choose lodgings and dining establishments that meet and exceed their expectations.
About Penrose Room:
Since it opened in 1961 atop The BROADMOOR's South Tower, Penrose Room has offered an experience unlike any other. With classic fine dining, an extensive European wine list and live entertainment and dancing in a stylish atmosphere, dinner at Penrose Room is truly an event. General Manager Duane Thompson orchestrates the dining room and service masterfully, while Executive Chef Bertrand Bouquin exquisitely prepares the cuisine. Both infuse classic hospitality and contemporary vitality into every detail.
About The BROADMOOR:
Opened in 1918, The BROADMOOR is situated at the gateway to the Colorado Rocky Mountains in Colorado Springs. The resort encompasses 3,000 acres with three championship golf courses, 744 lodging rooms and suites, including the new Cottage suites. Amenities include an award-winning spa and fitness center, nationally recognized tennis program, 25 retail boutiques and 18 restaurants, cafes and lounges.
The BROADMOOR is a member of Preferred Hotels and Resorts and Historic Hotels of America.
Contacts:
The BROADMOOR
Allison Scott, Director of Communications
ascott(at)broadmoor(dot)com | Ph: 719.577.5718
Lindsey Bradish, Food & Beverage Marketing & Public Relations Manager
lbradish(at)broadmoor(dot)com | Ph: 719.471.6188
###