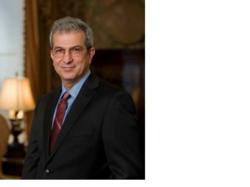 We are very pleased to introduce Dr. Farvardin to the community. He has the vision and experience to further Stevens' position as a global leader in education, research and innovation," said Larry Babbio, Chairman of the Stevens Board of Trustees.
Hoboken, NJ (Vocus/PRWEB) January 18, 2011
University of Maryland Provost Selected to Lead University
Stevens Institute of Technology announced today that its seventh president will be Dr. Nariman Farvardin, the Provost at the University of Maryland, College Park. Dr. Farvardin will take office July 1, 2011.
"Following an extensive and thorough search for the 7th president of Stevens Institute of Technology, we are very pleased to introduce Dr. Farvardin to the community. He has the vision and experience to further Stevens' position as a global leader in education, research and innovation," said Larry Babbio, Chairman of the Stevens Board of Trustees.
"The Board would like to thank Provost George Korfiatis under whose leadership as Interim President Stevens thrived and grew during a time of critical transition. His contributions across the entire community are highly appreciated and valued," said Babbio. "On July 1st, once Dr. Farvardin has assumed the Presidency, Dr. Korfiatis will continue in his role as Provost and University Vice President at Stevens."
"The search committee sought a multi-disciplinary candidate who not only exhibited impeccable credentials in a university setting but had the innovative and entrepreneurial spirit to carry Stevens forward," said Steven Shulman, Search Committee Chair. "In Dr. Farvardin, we found an outstanding individual who exemplifies the Stevens ethos and will build on its long and exceptional legacy. He is uniquely qualified to lead the University and possesses extensive experience in academic leadership, research and developing fund raising programs."
"I am thrilled by the opportunity to serve Stevens as its seventh President and deeply honored to have received the vote of confidence of its Board of Trustees," said Dr. Farvardin. "In Stevens, I have found a university with a remarkable history, vibrant education and research programs, a deeply rooted culture of innovation, and caring and committed constituents. I earnestly believe in Stevens' mission and potential, and I look forward to working with the Stevens community to propel the Institute to even higher levels of achievement."
As Provost at the University of Maryland, Dr. Farvardin was the chief academic officer at an institution with 13 academic colleges and schools offering 127 undergraduate majors and 112 degree programs to more than 37,000 students from 3,000 full-time faculty members and nearly 1,000 part-time faculty.
Prior to becoming Provost, Dr. Farvardin served as Dean of the University of Maryland's A. James Clark School of Engineering, and before that, Chair of the Department of Electrical and Computer Engineering. He is also a Professor of Electrical and Computer Engineering.
Under Dr. Farvardin's leadership, the university achieved significant goals in research partnerships, doctoral studies and fundraising. He established a new Institute for Bioscience and Biotechnology Research, a collaborative effort with the University of Maryland, Baltimore, and the National Institute of Standards and Technology, and he reallocated resources to strengthen the university's research enterprise, increasing externally funded research awards to an all-time high of $545 million in FY 2010, a 36-percent increase from three years prior. Dr. Farvardin coordinated a review to enhance the quality and improve graduation rates of all 83 doctoral programs at Maryland, leading to the establishment of new enrollment targets. As Dean of Engineering, he oversaw the expansion of fundraising and alumni relation activities, and planned and led the effort to attract the largest gifts in the history of the School of Engineering: $31 million to establish the University's Department of Bioengineering and $30 million to establish a scholarship endowment.
In 2008, as Provost of the University of Maryland, Dr. Farvardin spearheaded the development of "Transforming Maryland: Higher Expectations," the university's 10-year strategic plan. The plan set forth a vision of the university to attract talent, expand research, outreach and partnerships, guide the investments of human and material resources and strengthened undergraduate and graduate programs. The implementation of this comprehensive strategy resulted in remarkable positive changes at the university.
Dr. Farvardin has been awarded the National Science Foundation Presidential Young Investigator Award, the George Corcoran Award for Outstanding Contributions to Electrical Engineering Education, and the Invention of the Year Award (Information Sciences) from the University of Maryland. In January 2003, he was selected by The Washington Post as one of the "Five to Watch" in 2003.
Dr. Farvardin will also lend his own direct experience leading a technology startup company to further Stevens Institute of Technology's legacy of academic entrepreneurship.
Dr. Farvardin received his B.S., M.S., and Ph.D. degrees in Electrical Engineering from Rensselaer Polytechnic Institute in 1979, 1980, and 1983, respectively.
Dr. Farvardin's appointment culminates a nine-month search in which a select group of candidates, pared down from almost one hundred, underwent due diligence and participated in multiple rounds of interviews. The Search Committee, chaired by Steven Shulman (ME '62, MS '63, Hon Deg '02) and comprised of five board of trustee members, three faculty, two current students, two non-trustee alumni and one administrator, sought a candidate whose demonstrated success in academic innovation and entrepreneurship would best lead the university forward.
Dr. Farvardin will receive a base salary of $625,000 and will be eligible for future performance-based incentives. He and his family will reside at Stevens in the Hoxie House, the traditional home of the University President and will be entitled to all benefits available to University employees. The President's compensation was determined within the market data parameters provided by AonHewitt, an independent compensation consultant which specializes in higher education. The full Board of Trustees approved the President's five-year contract, as is required by the By-Laws of the University.
A. James Clark, Trustee Emeritus of the University of Maryland and Chairman of the Board and CEO, Clark Enterprises, Inc., stated "I would like to congratulate the Stevens Institute of Technology on selecting Nariman Farvardin as the future President of the Institute. I have known Nariman for some years and you could not have made a better selection. He is one of the brightest professors I know and will make a wonderful President."
"Visionary leadership coupled with commitment for achievement are hallmarks of Nariman's distinguished academic career. I have long admired his capacity to raise expectations and standards, to attract outstanding people, and to elevate outstanding schools to even higher levels of excellence and greatness. In addition, he has been honored by a multitude of professional and academic organizations for his engineering and research accomplishments. I can't think of a more perfect union than Nariman and Stevens Institute of Technology," said Dr. Jeong Kim, President of Alcatel-Lucent Bell Laboratories, former Regent of the University System of Maryland and former Trustee of the University of Maryland College Park Foundation.
"I have worked with Nariman as a member of his board and consider myself a friend. He is a man of superior vision, has great leadership skills, intellect and integrity, and is one of the most effective change agents I have known, either in the corporate or the academic world," said Mr. Phil Samper, former Vice-Chairman, Eastman Kodak, President, Sun Microsystems Computer Corp, and CEO Cray Research, Inc., and member of the University of Maryland's Engineering Board of Visitors.
Installing a University President is a momentous occasion. The first president of Stevens was Henry Morton (1870-1902), who served for 32 years until his death in 1902. The position was then given to Alexander Crombie Humphreys (1902-1927). After a nineteen-month search, Harvey Nathaniel Davis (1928-1951) was elected the third leader of the institute. Then in 1951, after the upheaval of the Great Depression and the Second World War, Davis decided to retire, making way for the fourth president of Stevens, Jess Harrison Davis (1951-1972). Kenneth Rogers was named the 5th President of Stevens (1972-1987), followed by Harold J. Raveche (1988-2010). Stevens has been under the direction of Provost and Interim President, Dr. George P. Korfiatis since July 2010.
For additional details on the presidential transition, please visit: stevens.edu/president
About Stevens Institute of Technology
Founded in 1870, Stevens Institute of Technology, The Innovation University™, lives at the intersection of industry, academics and research. The University's students, faculty and partners leverage their collective real-world experience and culture of innovation, research and entrepreneurship to confront global challenges in engineering, science, systems and technology management.
Based in Hoboken, N.J. and with a location in Washington, D.C., Stevens offers baccalaureate, master's, certificates and doctoral degrees in engineering, the sciences and management, in addition to baccalaureate degrees in business and liberal arts. Stevens has been recognized by both the US Department of Defense and the Department of Homeland Security as a National Center of Excellence in the areas of systems engineering and port security research. The University has a total enrollment of more than 2,350 undergraduate and 3,600 graduate students with almost 450 faculty. Stevens' graduate programs have attracted international participation from China, India, Southeast Asia, Europe and Latin America as well as strategic partnerships with industry leaders, governments and other universities around the world. Additional information may be obtained at http://www.stevens.edu and http://www.stevens.edu/news.
News and Media Relations Office: 201-216-5116.
###