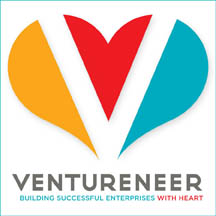 LinkedIn as a rolodex is the tip of the iceberg. It can do so much more, at so little cost, if only people knew! This class lets them know how much more.
New York, NY (Vocus/PRWEB) January 18, 2011
Groups, profiles? Is that all there is to LinkedIn? No, there's more, a treasure-trove of multi-media applications. What about blogs, tweets, advertising and presentations?
Yes, it can all be done with LinkedIn, making it a versatile and powerful tool in the marketing / development arsenal of businesses and nonprofits.
Ventureneer is offering a LinkedIn virtual course for advanced users of LinkedIn, those who already have a snappy profile and regularly participate in groups and discussions. The class is aimed at taking those savvy users to the next level of POW! with LinkedIn.
"LinkedIn as a rolodex is the tip of the iceberg. It can do so much more, at so little cost, if only people knew! This class lets them know how much more," says Geri Stengel, founder of Ventureneer.com.
Meaningful, fruitful connections -- both personally or through your groups -- are great but there's much more to LinkedIn. With add-ons, individuals and organizatons can show more of their work and value proposition through presentations, papers, podcasts, etc. In this virtual course, students will find out how to deliver with the punch of a button:
*SlideShare
*Box.net
*YouTube videos
*BlogLink
*Reading List
*Portfolio Display
*Events
These multi-media apps will be the focus of the class, which will also touch on specialized tools. Which apps are covered will depend on the interests and needs of participants. After all, this is a personal, real-life, practical class designed to help each participant find and use the most suitable tools.
The class is the last in a 3-part series in which each class focuses on different aspects of LinkedIn and raises the level of expertise achieved.
LinkedIn for Advanced Users will be offered Tuesday, February 2, 2011, from 2-3:30 pm ET for a fee of $79. It will focus on how LinkedIn multi-media apps can showcase your work and your organization's accomplishments.
Because this is an advanced class, students must have have a 100 percent complete profile, at least 50 connections, and membership in at least 10 LinkedIn groups. These requirements can be met by taking LinkedIn for Beginners and / or LinkedIn for Intermediate Users.
The class, like the other two in this series, will be taught by Marc Halpert, a long-time LinkedIn guru, an entrepreneur recognized for his client service, and a well-received teacher.
The series ends with six tips the instructor calls "The Proper Care and Feeding of LinkedIn," which will give added insight and new ideas to really polish that profile, jack up visibility, increase appeal to worthwhile connections, and reap the full benefits of LinkedIn.
This hands-on, practical class is aimed at solo-preneurs, small business owners, nonprofit leaders and nonprofit staff engaged in marketing and communications.
For more information or to register for the Vcourse, go to LinkedIn for Advanced Users.
About Ventureneer
Ventureneer connects values-driven small business owners, social entrepreneurs, and nonprofit leaders with the knowledge they need to make the world a better place and to thrive as businesses. At Ventureneer, entrepreneurial and nonprofit training and advice are practical, accessible, and affordable. Ventureneer has a new approach to learning, one built on Web 2.0 technology, that blends traditional, formal instruction with informal, peer learning. You can learn new skills, collaborate with peers, develop solutions to your real-world problems, get one-on-one help from experts, and access the information you need to make better decisions for your organizations.
# # #