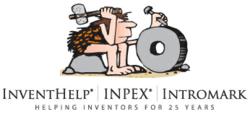 Pittsburgh, PA (PRWEB) January 19, 2011
InventHelp®, America's largest inventor service company, announces that one of its clients, an inventor from Massachusetts, has designed an exercise aid designed to enable a user to perform various types of pushup exercises. This invention is patented.
"U Push Up" design would feature a U-shaped device that could adjust to a user's height or preferred length. The unit would include a footpad for use on elevated exercises. The invention's design would enable a user to perform a variety of pushup-style exercises easily and confidently in a more time-efficient way. The compact, durable design would be adjustable for fast assembly and disassembly and transportability.
The U Push Up portable piece of exercise equipment would be constructed from tubular steel. The pushup system would include eight pieces, which would attach, or slide into, each other for assembly. The center portion would consist of two pieces that would be designed to adjust the length of the unit. On either side of the central piece would be an L-shaped, upright piece. Each upright piece would feature two legs. The telescopic, L-shaped pieces would be designed to adjust the height of the unit. A locking piece would be at the bottom which would allow the L-shaped pieces to fold for easy storage. A U-shaped, grip-and-swivel, slip-resistant handle would be located at the top of each upright piece. The handle would swivel and lock into various positions to facilitate different exercises. The exercise aid would feature a square, slip-resistant foot pad, which would rest on a pedestal-like stand. The foot pad could be used for inclines on various pushup exercises that require elevation or the user's feet being off the ground. A locking piece would allow the foot pad to swivel.
InventHelp® is attempting to submit the invention to companies for review. If substantial interest is expressed, the company will attempt to negotiate for a sale or royalties for the inventor. For more information, telephone Dept. 08-BMA-3395 at (800) 851-6030.
# # #