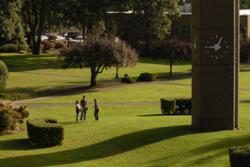 Newberg, Ore. (Vocus/PRWEB) January 19, 2011
How to build a faith that "sticks" with youth will be the theme of George Fox University's annual Kaleo conference on Saturday, Feb. 26, in Bauman Auditorium on the university's Newberg, Ore., campus.
The event, designed for people who minister to youth, is themed "Sticky Faith" and will endeavor to equip workers with the necessary tools to nurture youth who remain Christians after they leave organized high school groups.
Speakers Kara Powell of Fuller Theological Seminary and Jon Furman will discuss programmatic versus relational ministry options and address why programmatic ministry ends with kids leaving because they do not create personal connections. The seminar will focus on practical aspects of ministry so Christians who engage with youth can learn to communicate with students so that their faith remains vital and real into adulthood.
Registration and conference schedule information is available at kaleo.georgefox.edu.
In addition to her role as a faculty member at Fuller, keynote speaker Powell is a pastor with experience in engaging with youths. She is the author of "Essential Leadership" (2010), "Deep Justice Journeys" (along with Brad Griffin, 2009), "Deep Justice in a Broken World" (along with Chap Clark, 2008), "Deep Ministry in a Shallow World" (along with Chap Clark, 2006), "Good Sex Youth Ministry Curriculum" (along with Jim Hancock, 2001, revised in 2009), and "Help! I'm a Woman in Youth Ministry" (2004).
Also speaking is Furman, a pastor to youth and families in the Portland metro area for the past 15 years. Worship will be led by Jake Schwein, a pastor of worship and creative arts at Grace Chapel in Wilsonville, Ore.
Breakout sessions will complement the plenary speakers. They include campus pastor Sarah Baldwin; Rusty St. Cyr, the university's director of spiritual formation; professor Steve Sherwood, who is teaming with his wife Elizabeth, a pastor at Newberg Friends Church; Judy Glanz; professor Paul Anderson; Ron Marrs; Chuck Bomar; Ben Sand; Andrew Watson; the George Fox worship team; Jen Morishima and Selene Nesland.
The conference starts at 9 a.m. and runs until 4:15 p.m., with a book-signing session following. The cost is $32 if registered by Feb. 1, $37 if registered by Feb. 23, and $42 at the door. For more information, contact Amy Lorenz in the Office of University Relations at 503-554-2134.
In terms of undergraduate ministry degrees, George Fox offers a Christian ministries major as one of its 42 undergraduate bachelor's degree programs.
George Fox University is ranked by Forbes as the top Christian college in the Pacific Northwest and among the top three Christian colleges in the country. George Fox is the only Christian university in the Pacific Northwest classified by U.S. News & World Report as a first tier national university. More than 3,400 students attend classes on the university's campus in Newberg, Ore., and at teaching centers in Portland, Salem, and Redmond, Ore., and Boise, Idaho. George Fox offers bachelor's degrees in more than 40 majors, degree-completion programs for working adults, five seminary degrees, and 11 master's and doctoral degrees.
Contact:
Amy Lorenz
Office of University Relations
503-554-2134
###