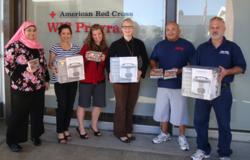 I have heard a lot of great feedback so far. Participants are very excited.
San Diego, CA (Vocus/PRWEB) January 21, 2011
With help from Aroma Housewares, 400 San Diego families in need will now have an easier way to prepare healthy, low-cost meals. Aroma, America's top-selling rice cooker brand, donated 400 digital rice cookers to San Diego WIC offices to be given to local WIC participant families on Tuesday, January 18th.
The donated digital rice cookers include a specialized brown rice function that prepares the whole grain to perfection with just the press of a button. Brown rice became a part of the WIC food package in 2009.
Along with the donated rice cookers, each WIC participant family will receive two bags of brown rice from Lundberg Family Farms, a California rice mill and member of the USA Rice Federation.
The WIC participant families who receive the rice cookers greatly appreciate the ease with which they can now make brown rice.
"The participants have commented that they will be able to use the rice cooker to cook the brown rice we're recommending," said Jennifer Nolan, WIC Service Area Manager for the University office.
Stephanie Brookshier, Nutrition Education Associate from the WIC Administrative Office echoed the positive feedback from participants receiving the Aroma rice cookers.
"I have heard a lot of great feedback so far," she said. "Participants are very excited."
Brown rice is a 100 percent whole grain and a healthy partner on the plate. Brown rice packages can carry the FDA whole grain health claim which states "Diets rich in whole grain foods and other plant foods and low in total fat, saturated fat and cholesterol may reduce the risk of heart disease and some cancers." In addition to the rice cooker, each donation includes a special "Brown Rice Information" insert which details how to make brown rice in three easy steps with the Aroma rice cooker, nutritional information on brown rice and recipes for Spanish Brown Rice and Brown Rice Breakfast Pudding.
Aroma, which is headquartered in San Diego, has developed a long-lasting partnership with local WIC offices. Aroma previously donated 400 digital rice cookers in August and 300 pot-style rice cookers in October of 2009.
WIC is a USDA-funded special supplemental nutrition program providing monthly benefits to 9 million recipients. San Diego County WIC serves over 37,000 San Diegans each month. Aroma donated rice cookers to 7 local WIC locations: WIC El Cajon, WIC Lemon Grove, WIC Euclid, WIC Linda Vista, WIC Oceanside, WIC Spring Valley and WIC University.
# # #