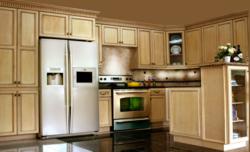 I think all the staff were wonderful and very prompt in response to everything. They rendered drawings of what my kitchen could look like for the designs and even input several options I didn't think of like extra storage, which is a plus in any kitchen!
Pawling, NY (Vocus/PRWEB) January 21, 2011
The RTA Store closes out 2010 with record profits in its sales of kitchen cabinets. Sales numbers at the RTA Store have continued to climb throughout 2010, indicating that the online retailer is seeing demand for RTA kitchen cabinets rise to new highs. RTA Store managers are currently preparing for 2011 by hiring additional customer service staff to keep up with this increasing demand for discount kitchen cabinets.
Tyler Ackerman, company president at The RTA Store, says, "We are creating new customer service positions during a time when unemployment is high and so many other companies still aren't hiring additional staff. A larger customer service department means we can provide even better service than we already do for customers who are looking for high quality kitchen cabinets."
In 2010 The RTA Store became the largest internet retailer for RTA kitchen cabinets in America, and the company's sales numbers continue to show its strength during this poor economic time. The RTA Store credits its customers and staff members with the record profits and is looking for even more opportunities in 2011 to serve those who need ready-to-assemble and pre-assembled kitchen cabinets.
The RTA Store specializes in both ready-to-assemble and pre-assembled kitchen cabinets. The retailer offers more than 30 different finishes in RTA kitchen cabinets and 13 finishes in pre-assembled kitchen cabinets. The company sells only solid wood and plywood kitchen cabinets and offers a design team that can help customers figure out exactly what kind of kitchen they want. The RTA Store also offers a "Free Kitchen Design" section on its website so customers have the option of getting their kitchen designed in 3-D before they make their purchase. The RTA Store's lowest price guarantee is a practice which certainly contributed to the retailer's record profits in sales of ready-to-assemble and pre-assembled kitchen cabinets.
About the RTA Store:
The RTA Store is a family-owned and operated online retailer of discount kitchen cabinets. The company sells cheap kitchen cabinets from reputable companies customers know and trust.
###