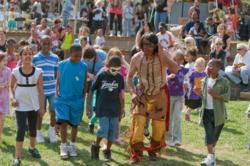 Hampton, Virginia (Vocus/PRWEB) January 20, 2011
This April 16, 2011, the International Children's Festival returns to downtown Hampton, Virginia's Mill Point Park. Taking place 10:00 a.m. – 5:00 p.m., this highly-anticipated annual event features over 35 countries and allows a unique opportunity for children of all ages to experience the sights, sounds, and tastes of cultures from across the globe.
A wealth of exciting activities are planned for this year's program, including a costumed Parade of Nations showcasing a breathtaking array of exquisite fabrics, bold colors, and exciting designs. Entertainment for this year's festival will include the popular Dragon Head Dance, the Happy Dutchmen "Oompa Band", and native folk dancers, to name a few. Entertainment will take place on three stages.
To help children further stimulate real travel and enhance their worldwide journey, Passports to Adventure are available FREE courtesy of Busch Gardens. As the children visit each country, they will have their visas stamped to confirm their interaction with the organizers of each booth. If they visit every country at the festival, the child will then be entered into a special "World Traveler" prize drawing, with winners receiving a family four-pack to Busch Gardens.
Select countries will also be selling native cuisine at this year's event, providing exotic and tempting treats from Turkey, The West Indies, Ireland, and more. The designated food court area will remain open until the conclusion of the festival.
Sponsors for this year's festival include the BayPort Credit Union (Main Stage), Virginia Arts Festival and returning this year our presenting sponsor, Busch Gardens Williamsburg.
For more information on the 2011 International Children's Festival, call 757/727-8311 or check out http://www.hampton.gov/parks/icf. Admission to the festival is free and ample parking is available throughout downtown.
2011 INTERNATIONAL CHILDREN'S FESTIVAL
Participating Countries
Brazil
Cambodia
Caribbean Islands
England
France
Germany
Ghana
Greece
Iceland
India
Ireland
Israel
Italy
Japan
Korea
Mexico
Middle East
Morocco
Native Americans
Nigeria
Norway
Panama
Peru
People's Republic of China
Philippines
Poland
Russia
Rwanda
Scotland
South Africa
Spain
Taiwan Republic of China
Thailand
Ukraine
Turkey
USA
Vietnam
###