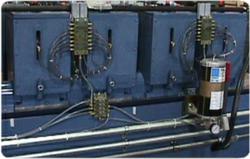 Mentor, OH (Vocus/PRWEB) January 21, 2011
Every tube, pipe and roll forming producer knows that manual lubrication costs them a great deal of time and money. Data recently calculated by Roll-Kraft shows just how costly it can be to prolong a switch to a central lubricating system.

Mill lubrication should be part of the regular maintenance schedule and occur after every 100 hours of operation.
A mill that is operational 40 hours a week requires approximately 21 mill lubrications a year for optimal service.
Each manual lubrication averages 3-½ hours to complete, for a total of 73-½ hours per year.
Using a figure of $750 per hour to operate a mill, manual lubrication can cost up to $55,125 per year.
To remove the burden of manual mill lubrications, Roll-Kraft has designed a central lube system. Securely mounted along side the mill, the system dispenses small amounts of lubricant, maintaining adequate coverage at all times. Flow sensors can give added protection by monitoring the proper release of the lubricant. Studies show that an automated lubrication system is by far superior to the antiquated inconsistency of manual application. Increased bearing life, ease of mind, and a quick return on investment are all important considerations.
Roll-Kraft also provides other tube & pipe mill services and roll forming services to aid in training personnel to consistently follow the steps of maintaining the mill. On-site seminars are often preferred as the most convenient way to educate the entire team. Proper training can provide considerable cost savings by avoiding down time associated with repairs and lost production. Robert Sladky, V.P. Tube Mill Engineering, is the chief instructor of on-site seminars. He is known throughout the industry and has been awarded the TPA Industry Education Activities Award for his experience and expertise.
About Roll-Kraft
Roll-Kraft is a well known world leader in providing tooling, equipment, and services to the tube & pipe and roll forming industries. Its headquarters is in Mentor, Ohio, and it maintains offices in Frankfurt, Illinois (Roll-Kraft Northern), and Woodbridge, Ontario, Canada (Roll-Kraft Ltd.).
There are several ways to reach Roll-Kraft: By phone at (888) 953-9400, by fax at (440) 205-3110, or by clicking on Dr. Resolve on the website, http://www.roll-kraft.com. An inquiry through Dr. Resolve is painless and will be quickly answered. More information about Roll-Kraft products and services is always available on the company website.
###