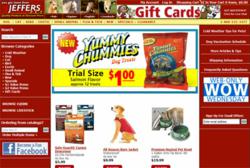 Peterborough, NH (Vocus/PRWEB) January 25, 2011
Search engine marketing company @Website Publicity announced today the signing of a new client, Jeffers Pet, based in Dothan, Alabama. Jeffers is one of the largest privately owned animal health and pet supply retailers, with a vast range of products for small to large animals -- and for the people who care for them.
Jeffers was founded in 1975 by Keith Jeffers, PhD, in the basement of his ranch home. He started as an advisor for local farmers and began providing livestock feed and ancillary products when he realized they needed a cost efficient source for their supplies. Dr. Jeffers began to go door-to-door to establish a customer base, and soon had enough customers to start the first Jeffers Catalog. "Dr. J," as he became known, with his wife Dorothy and daughters, Mary and Ruth, hand delivered these early catalogs. Currently the company offers three catalogs: one each for Pet Supplies, Equine Supplies, and Livestock Supplies and distributes them throughout the United States each season.
In 1999, Jeffers widened its reach with JeffersPet.com and provides the offerings of all three catalogs with a unified shopping cart and excellent customer service by phone, mail and e-mail. The website is also supported by a Facebook page and a blog for each catalog title.
@Website Publicity is supporting Jeffers newly redesigned website, JeffersPet.com, with search engine marketing strategies, including Paid Search advertising. The goal is to make Jeffers' wide range of popular products even more accessible to animal and pet lovers who are looking for the best resources for their animal care requirements. Whether it's a new blanket for your horse, vaccines for your puppies, a water bottle for your ferret or a Merck Manual to help you keep all your animals healthy, Jeffers Pet provides fast and affordable solutions.
For more information about Jeffers Pet, visit the company's website at http://www.JeffersPet.com or call them at 1-800-533-3377.
@Website Publicity is a leading search marketing agency offering search engine optimization consultation and paid search advertising services, as well as product feeds to the shopping engines and blogging. Founded in 1998, it serves e-commerce companies, Business-to-Business marketers, educational institutions and non-profit organizations throughout the United States. For more information on @Website Publicity, call 800-450-2818, ext. 203, or visit http://www.websitepublicity.com.
# # #