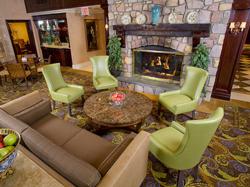 "The Inn At Fox Hollow and its parent company Scotto Brothers, are committed to providing its guests with a unique combination of luxury and comfort"
Woodbury, NY (Vocus/PRWEB) January 25, 2011
The Inn is the most comfortable all suite luxury Hotel on Long Island providing added value with superior amenities and services. Complimentary amenities include full American Breakfast Buffet Daily, an extensive Dinner Buffet Sunday-Thursday with wine, beer and soft drinks as well as wireless and wired high speed internet service. There is a full size kitchen in 134 of the Classic Suites and a wine bar in the 11 exclusive Royal Suites.
While The Inn At Fox Hollow is recognized as Long Island's Best Hotel for 2011, the most exciting news is that The Inn plans to transform their Suites with new customized furniture in all of their Suites by June 2011, and will continue to move forward with replacing all of their kitchen appliances to state-of-the-art stainless steel in 2012.
The new look of the Suites will include:
New Desks
New Coffee Tables
New Night Stands
New Artwork and Bedding
Keurig Single Cup Coffee Makers in all Suites
New "Brandstand" iPod Alarm Clocks
An Arm Chair with Ottoman near the side of couch
One Standing Lamp between the couch and arm chair
One new side table on the far side of couch
One Night Stand in Double Bedded Suites (center of beds)
One long six draw dresser in all One Bedroom Suites
New TV stand and dresser in all Studio Suites
All TV's will be hung on the wall in The One Bedroom Suites
Studio Suites will have a bench at the end of each bed
New Headboards in all of the suites ~ each will differ in size, style and fabric
When Franklin Manchester the Hotel's General Manager was asked what he believes the renovations will mean for the Hotel and its guests he replied, "The Inn At Fox Hollow and its parent company Scotto Brothers, are committed to providing its guests with a unique combination of luxury and comfort. The Hotel's success has been based on offering a rewarding hotel experience whether they are traveling for business or pleasure. Our guests have come to know our Above and Beyond customer service philosophy and we now see a great opportunity to once again make various changes to enhance the Hotel's offerings and continue the practice of exceeding our current and future guest's expectations. Personally, I love the fact that I work for a Hotel and a company that recognizes that change is a necessity in this industry, especially when we are always in the pursuit of being the very best. I believe the timing is right and I am excited for our guests and the Hotel's team of employees. I think the various changes will be well embraced by all."
# # #