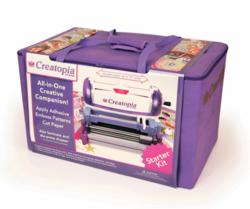 The Starter Kit gives crafters a quick start with Creatopia.
Scottsdale, AZ (Vocus/PRWEB) January 22, 2011
Xyron, Inc is pleased to announce the release of the Creatopia Starter Kit. The starter kit has everything needed to begin creating with Creatopia, your all-in-one creative companion.
"We really wanted to be able to simplify the world of Creatopia," says Product Manager, Yarden Bendor. "This kit is designed to help consumers more readily make the decision to add Creatopia to their supply room because it has everything they need to get started. It's especially great for the novice crafter."
The Creatopia Starter Kit includes one 25 sq ft acid-free permanent adhesive cartridge, one hearts Patternz, one floral Borderz starter kit, one Cutz starter kit, one stars Borderz and two scallop Cutz blades. It also comes with an idea book and a canvas carrying case.
Patternz allows up to 12" of continuous embossing, while Borderz only allows edges to be embossed. Cutz allows users to cut strips of paper, fabric and other thin material and can be used with up to six blades at a time.
It will be available in independent retail stores in April 2011 and will retail at $249.99.
# # #