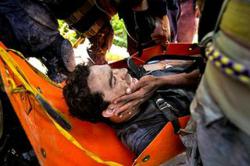 Houston, TX (Vocus/PRWEB) January 23, 2011
Dan Woolley, relief worker for Compassion International and author of Unshaken: Rising from the Ruins of Haiti's Hotel Montana, will be featured on Total Career Success, a VoiceAmerica Talk Radio Network radio show on January 24 at 11:00am Central. The show is designed to inform and encourage listeners to achieve their career goals by featuring experts and business leaders to provide job search assistance and career development. One year after the devastating quake that took a quarter million lives, Unshaken is the only known first-person account to be released by a Haiti earthquake survivor. He will share his incredible story of survival for 65 hours buried in utter darkness under tons of rubble and how it changed his life and career.
Relief worker Dan Woolley was not even supposed to be at the Hotel Montana. But due to a last-minute hotel switch, he found himself at the epicenter of last January's Haiti earthquake trapped beneath the rubble of what was once one of Haiti's finest hotels.
On his second day working with Compassion International in Haiti, Dan returned to the Hotel Montana just seconds before the quake hit, turning the six-story building into a pile of rubble. With his head bleeding, his foot broken and his leg ripped open, Dan made his way in complete darkness through what remained of the hotel lobby to an open elevator car. Dan spent the next 65 hours in darkness, battling despair, dehydration and doubt over whether he would live to see his wife and two young sons again. Dan will share his three day ordeal and how the experience has changed his outlook on his family, relationships, work and life.
Dan stated, "I will never pretend to understand why God allowed me to be rescued while others were not, and though I celebrate with my family, I do not take lightly the difference between my outcome and the suffering of others."
Prior to the earthquake, Dan and a colleague, who was killed instantly in the quake, traveled to Haiti to capture footage of Compassion International's Child Survival Program, which helps ensure healthy pregnancies for underprivileged moms and gives their children a healthier start in life.
Dan reflected, "It's kind of ironic to think that I went to Haiti to participate in Compassion's programs that rescue children-and I ended up being the one who needed rescue."
Dan added, "While I was in Haiti, lots of things were shaken by the earthquake, including how I viewed myself, my marriage, and my faith. But the quake also shook loose a lot of things that weren't important, leaving the solid foundation on which my life is built: my faith and my family."
Show co-host Sheryl Dawson shared, "Dan's compelling story is one that resonates with people of all backgrounds who experience hardships and challenges both personally and professionally."
Co-host Ken Dawson added, "Regardless of where you are in your career or life, this is one story you will want to hear. There are lessons for us all on how important it is to take each breath with purpose."
The show will air live at 11 a.m. - noon Central on January 24, 2011. To listen, please visit Voiceamerica.com and search for Total Career Success. The archived show will be available for replay or download at the Total Career Success website, or from iTunes http://www.itunes.com/podcast?id=311541702
About Dan Woolley, Author
Dan Woolley is an interactive strategies director for Compassion International and creator of MyKidsWeek.com. He earned his bachelor's degree in English and international studies from Azusa Pacific University and has spent his career working with nonprofit organizations. After his rescue from beneath Haiti's Hotel Montana, Woolley appeared on the Today show, NBC Nightly News, Inside Edition and Larry King Live. Woolley currently uses his web skills at Compassion International where he has been heavily involved in developing RescueBabiesNow.org for Compassion's Child Survival Program. Woolley and his wife Christy reside in Colorado Springs with their two sons, Josh and Nathan. He tweets at @webguydan, posts on Facebook and blogs at DanWoolley.net.
About Total Career Success
Total Career Success is broadcast on VoiceAmerica, the world leader in Internet Talk Radio, and syndicated on World Talk Radio; the show aims to engage listeners in new ways of thinking about their potential, their goals, and their future. The show hosts are Ken and Sheryl Dawson, principals of Total Career Success, Inc. and authors of Job Search: The Total System, 3rd edition. They have served corporations in outplacement and career development as well as talent management optimization for 30 years in their consulting firm Dawson Consulting Group. The show presents guests who are experts in their fields to share the lessons they have learned in succeeding in their various areas of excellence and to discuss tips about a broad range of career development issues, from specific career opportunities, to industries and workplace changes, to financial and career advancement considerations. For more information, visit totalcareersuccess.com and dawsonconsultinggroup.com.
# # #