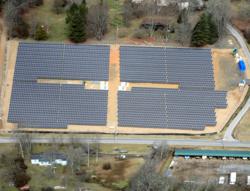 We are supporting various sectors of the solar industry while creating new job opportunities for the local economy.
Lake Mary, FL (Vocus/PRWEB) January 24, 2011
ESA Renewables, LLC, a leading turnkey solar system provider, and Suniva, Inc., a U.S. manufacturer of high-efficiency monocrystalline silicon solar cells and modules, today announced the commissioning of a 1MW solar farm. Located approximately 100 miles northeast of Atlanta in Blairsville, GA, the project constitutes the largest privately held ground mounted connected system in Georgia.
Designed, engineered and constructed by ESA Renewables, LLC and developed by Trey Pippin of Renewable Properties, LLC the solar farm spans across a total of approximately five acres. "This major milestone project is a significant step forward for the development of the clean energy industry in Georgia. Solar has gained momentum in the US and we believe our global expertise and resources in providing turnkey PV projects add exceptional value. Meanwhile we are supporting various sectors of the solar industry while creating new job opportunities for the local economy" said Jeffrey Burkett, President of ESA Renewables.
The farm utilizes four of Advanced Energy's 260kW PV Powered inverters and 4,340 high-powered solar modules from Suniva, which are expected to cumulatively generate approximately 1,303,000 kWh of energy annually. The power will be sold to Tennessee Valley Authority and its Generation Partners pilot. Generation Partners provides incentives for the installation of renewable generation systems. The pilot makes more green power available for Green Power Switch subscribers and creates a market for green power generation by homeowners and businesses. "TVA is proud to partner with ESA Renewables and Trey Pippin of Renewable Properties LLC on encouraging locally-owned solar and renewable generation in the valley," said Susan Curtis, TVA manager of Renewable Energy Programs. "Each opportunity to add green power to the grid is a success for the customer, the local power company and for TVA."
"Few times in ones career in the electric industry will the opportunity present itself to witness first hand fundamental changes," said Matthew Akins, General Manager of Blue Ridge Mountain EMC. "With the commissioning of this first large solar array in our territory, Blue Ridge Mountain EMC has been afforded that privilege. The work each of the partners involved in this project will accrue benefits to our members for years to come."
"Installations like Mr. Pippin's are propelling Georgia towards a more enlightened and sustainable way of meeting our power requirements by generating clean solar energy that can be sold directly into the grid," said Bryan Ashley, chief marketing officer of Suniva, Inc. "We're proud that GA's largest PV installation to date is Powered by Suniva™ and we look forward to continuing to watch PV installations grow in Georgia and providing our PV technology which is developed right here in Georgia."
ESA will be holding a ribbon cutting ceremony for the solar farm on January 27th at 2pm at the site. A tour of the facility will be given and the public is welcome to attend. The address of the site is 2320 Ed King Road (corner of Old Blue Ridge Highway and Ed King Road), Blairsville, GA 30512.
About ESA Renewables, LLC
Located in Lake Mary, FL, ESA Renewables has positioned itself as a leader in the industry providing turnkey solar PV systems globally. ESA owns and operates a diverse portfolio of over 400 solar PV power generating facilities located in the United States, Puerto Rico, Spain and Italy. ESA's scope of services includes financing, engineering, construction, testing and operation and maintenance. With headquarters in Castellon Spain, ESA has additional offices in Florida, Puerto Rico, France and Italy. For more information about ESA Renewables, LLC, please visit http://www.esarenewables.com or call 407-536-5346.
About Suniva
Based in metro-Atlanta, GA, Suniva® manufactures high-efficiency monocrystalline silicon solar cells and high-power solar modules using patented low-cost techniques. Led by an internationally regarded team of business executives and photovoltaic scientists, the Company leverages exclusive licenses to critical patents and patent-pending intellectual property developed by founder and CTO Dr. Ajeet Rohatgi at the Georgia Institute of Technology's University Center of Excellence for Photovoltaic Research, which is funded by the Department of Energy. Suniva sells its advanced solar cells and modules worldwide and is dedicated to making solar generated electricity cost competitive with fossil fuels. For additional information on how Suniva is making solar more sensible in the global market, please visit http://www.suniva.com.
Media Contact:
Lindsay Herold
ESA Renewables, LLC
Contract Administrator
407-536-5346
###