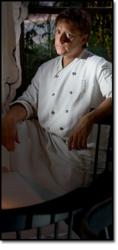 From an early age, I was on a fast track — very driven, very competitive.
East Berlin, PA (Vocus/PRWEB) January 26, 2011
Chef Neil Annis' biography is the envy of any culinary student: A 1990 graduate named "most likely to succeed" by his peers at the Culinary Institute of America; chef positions at Bouley, Aux Beaux Champs, Les Célébrités, Lespinasse and Compass; completing 'stages' at Restaurant Kandinsky in the Netherlands, and Restaurant Alain Ducasse in Paris.
"From an early age, I was on a fast track—very driven, very competitive," says Annis. He remembers the intense schedule—working 9 a.m. to 1 a.m., initially for free, absorbing as much knowledge as possible in the disciplined kitchens in which he worked. But it paid off. The experience he gained and the solid relationships he built proved valuable as he worked for acclaimed restaurants up and down the East Coast and in Europe.
A unique opportunity arose in 1997 when, while working at Les Célébrités, Annis was recruited for a corporate chef position at Unilever, where he created and developed branded products for the large global corporation. "It was a big, big jump for me," he says. "It opened my eyes in a lot of regards."
Annis stayed with Unilever for two years until Chef Christian Delouvrier offered him the chef de cuisine position at Lespinasse, enticing Annis to leave the corporate world. Annis returned to the kitchen to head a staff of 48 cooks, and the restaurant received a four-star rating in The New York Times. Shortly after, he accepted the executive chef position at Compass on New York's Upper West Side. With Annis' guidance, Compass was voted Best New Restaurant in New York City by the Zagat Guide in 2003.
So why—at the pinnacle of his career—did Annis walk away from it all? Why did he turn down high profile chef offers across the country and return to the sleepy town of East Berlin, Pennsylvania, far removed from the fast-paced city life of New York?
"I knew I needed to reassess what I wanted out of my life," Annis says. He took six months off from his punishing schedule to travel and visit friends and family. "It was the first time I'd really taken a break."
Captivated by the country charm that surrounded him, Annis decided to stay and start a restaurant in the county in which he'd grown up. In October 2004, he opened the doors to Sidney in a rustic 18th century building in the heart of East Berlin, a town of approximately 1,400, roughly two-and-a-half hours west of Philadelphia and 45 minutes south of the state capital of Harrisburg.
But the restaurant's small town locale didn't mean compromising technique, ingredients or flavor. Instead, Annis has brought his decades of experience to rural Pennsylvania.
Today, six years after leaving New York City and opening Sidney, Annis is satisfied with his decision and continues to offer forward-thinking, chef-driven, modern American food with a foundation in classic French cooking—on his terms.
Annis is available for interviews about Sidney, his experience in the restaurant industry and his views on today's culinary world. Interviews may be scheduled by calling 717-259-1319. Learn more about Annis and Sidney at http://www.restaurantsidney.com and http://www.facebook.com/restaurantsidney.
###