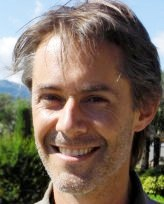 For those who want to believe there's a devil, this book will lovingly help you discover who the real devil is.

Neale Donald Walsh, author of the best selling "Conversations with God," series.
Ansbach, Germany, Zurich, Switzerland (Vocus/PRWEB) January 25, 2011
What happens when a physician is suddenly confronted with an unseen force that challenges his beliefs about God, the Devil, good and evil and the meaning of life and death? In his provocative new book, "Dialogue with the Devil," Yves Patak, M.D. relates his colorful, often uncomfortable discourse with this mysterious entity.
For centuries, human beings have been fascinated with a supernatural being called by many names including: Satan, Lucifer, the fallen angel, the Devil. Whether feared, worshipped, ignored, or discounted, there is no doubt that the Devil has played a major role in religion, mythology and belief systems on planet earth. But who is he? For the first time, he himself explains who he is, where he came from, and most importantly, what his "job" is.
The book has captured the imagination of Neale Donald Walsch, author of the runaway bestseller "Conversations with God" Neale states:"For those who want to believe there's a devil, this book will lovingly help you discover who the real devil is."
Challenging, controversial, always fascinating, but never dull! This book will shake the foundations of many a belief system, and forever change the way we look at the Devil. Anyone who has ever asked him or herself: "Is that all there is," will find that this book sheds light on the true purpose of life and what we mortals are here to learn. Addressing questions about love, sex, relationships, work, money family and other universal subjects, it will challenge readers to examine themselves from a deeper perspective and to live more authentically. It begs the question: "Are you ready to confront your own Devil?"
About the Author:
Yves Etienne Patak, M.D., works as a general practitioner, acupuncturist (ASA), and hypnosis therapist in Zurich, Switzerland. During his medical studies Yves spent three months in Jamaica, where he experienced uncanny phenomena, which he partly incorporated into his first novel The Healer and his current project, a thriller called The Screener. Various stays in the Far East, India, Sri Lanka, and the West Indies acquainted him with diverse cultures, rituals, tribal medicine, and superstition. These experiences have strongly inspired Yves both in his work as a physician and a writer.
For interviews or review copies contact:
Annemarie Osborne, Annemarie.Osborne@gmail.com,
DIALOGUE WITH THE DEVIL, Enlightenment for the Unwilling, Yves Patak M.D. is published by Rainbow Ridge Books, distributed by Square One Publishers. Retail $17.95, 156 pages, 5 x 8 ½ quality paperback, spiritual and metaphysical ISBN 978-0-9844955-2-8
Available at Amazon.com in paperback and Kindle versions and at local booksellers.
# # #