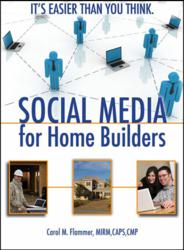 Atlanta, Ga. (Vocus/PRWEB) January 25, 2011
Social Media for Home Builders: It's Easier Than You Think was one of the top selling books in 2010 for NAHB BuilderBooks, the publishing arm of the National Association of Home Builders. Released at the 2010 International Builders' Show in Las Vegas, the book set record sales by selling out in just three days. An encore performance occurred earlier this month at the International Builders' Show in Orlando where the book was the top seller at the Show.
Author Carol Flammer guides the reader through planning, establishing, maintaining and evaluating a social media program to maximize Return on Investment (ROI).
Flammer is managing partner of mRELEVANCE, LLC, a marketing firm with offices in Atlanta and Chicago. An early adapter to new media, Flammer has been blogging for six years and is the founder of Atlanta's most popular real estate blog, http://www.AtlantaRealEstateForum.com.
"As builders and developers look to market to today's technology savvy buyers, this book provides them with a strong foundation for getting started in social media marketing," according to Courtenay Brown, director of book publishing for NAHB BuilderBooks.
Flammer cites research and case studies to demonstrate the effectiveness of social media programs, then offers site-specific instructions to help readers build a presence on outlets like Facebook, LinkedIn and Twitter. While the book references resources that are specific to home building and real estate, including Trulia and ActiveRain, newcomers and experienced online marketers in many industries will find the guide to be a useful tool.
With 20 years of experience, Flammer has established herself as the "go to" for real estate and construction products public relations and social media. The Atlanta Business Chronicle recently highlighted the strong results she has garnered for her clients in a story, "Builders drum up business using social media." Flammer teaches social media seminars across the country at associations and chambers of commerce. She is a frequent speaker at trade shows including the NAHB International Builders' Show and 21st Century Building Show and Expo.
To purchase a copy of Social Media for Home Builders: It's Easier Than You Think visit http://www.BuilderBooks.com or call 800-223-2665. Soft-cover/112 pages. $15.95 retail. $13.95 NAHB member, ISBN 978-0-86718-667-3.
To book Carol Flammer as a speaker or consultant, contact her via http://www.mRELEVANCE.com.
About mRELEVANCE: mRELEVANCE, LLC, is an Internet marketing, social media and public relations firm that operates at the intersection of social and search to build online and off line relationships. Effectively syndicating well written, targeted content through the power of traditional public relations, social media and search engine optimization, mRELEVANCE creates relevant, measurable campaigns with proven Return on Investment. mRELEVANCE case studies and client successes speak for themselves. When you are ready to increase your website traffic by 50 – 200 percent, contact mRELEVANCE. With offices in Atlanta and Chicago, mRELEVANCE can connect your company with buyers and build relevant relationships nationwide. For more information, visit http://www.mRELEVANCE.com, Like us on Facebook at http://www.Facebook.com/mRELEVANCE, Follow us on Twitter at http://twitter.com/mRELEVANCE or call 770-383-3360 or 847-259-7312.
###