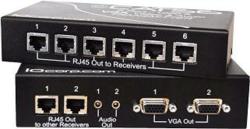 We are seeing very effective digital signage solutions that consist of dozens of signage screens receiving their content via CAT5/5e/6 cable from a single PC running even running a simple power-point presentation
Salt Lake City, UT (Vocus/PRWEB) January 25, 2011
The costs associated with a digital signage solution can be mind-staggering – especially for budget-strapped schools, colleges/universities, churches, retail locations and small businesses. To help these organizations realize different benefits of digital signage, I-O Corporation has announced a DIY method that allows organizations to use existing IT components and infrastructure to transmit digital signage signals from a single PC to dozens of monitors and screens throughout a building. The key to the DIY method is via I-O Corporation's oCAT56 transmitters and receivers.
"Digital Signage does not need to be a budget-busting project," says Matt Brady, President of I-O Corporation. "We are seeing very effective digital signage solutions that consist of dozens of signage screens receiving their content via CAT5/5e/6 cable from a single PC running even running a simple power-point presentation."
In educational settings, schools can off-set the content creation costs by using the talented students enrolled in multi-media and graphic design courses. Once installed, this can reduce the operating costs of a signage system to near zero.
Higher education institutions are also benefitting from the oCAT56 transmitters and receivers. At Illinois Central College, we needed a signage solution for our Corporate and Community Education facility." Says Kenneth Burton, Coordinator of Telecommunications and Media Services. "We had only limited connectivity to our monitor locations so we required something scalable, capable and easy to use, yet delivered over a single CAT 6 cable. The oCAT56 boxes have been great. Simple installation and operation is exactly what we got, while retaining a crisp, high quality image. I especially like the receiver's dual output function which saves on the need for additional boxes. I-O Corporation was also very helpful in tailoring a solution that fit our immediate need, but it allows us to grow when we're ready."
The most expensive piece of the puzzle tends to be the actual monitors and screens. However, one does not have to go any further than the big retail outlets like WalMart and Costco to find economical screens that will work for them. Due to large inventories from flat-panel screen manufacturers in Asia, the first and second quarter of 2011 will be the best time to invest in digital signage displays.
A typical digital signage deployment will usually consist of multiple players (usually one player per screen), the content creation, the content management, the content distribution to the players, the screens or monitors, and the distribution infrastructure. Because of there is usually a one-to-one ratio between screens and players, the content management and distribution can be a significant cost and headache in the overall signage solution. This usually means every player must be managed and monitored to ensure the content has been received and is being played properly. I-O's solution simplifies the infrastructure by connecting a single player (or PC) to the oCAT56 6-port Transmitter, and then using CAT5/5e/6 cable, distribute the Video and Audio to the oCAT56 daisy-chainable Receivers. The most significant benefits of the I-O oCAT56 Receivers include:

Two-Screen support. This allows two screens to be placed back-to-back in a hallway.
Splitting of signals. Using the two RJ45 jacks to continue extending video and audio signals can reduce the number of cable runs from the source.
Skew Corrections. Because the length of each twisted wire pair within a CAT5/5e/6 cable is different, each receiver can adjust the Red, Green. Blue, Focus, and Brightness of each signal – resulting in a crystal clear signal.
About I-O Corporation
For over 32-years, I-O has provided technical expertise to all sizes of organizations. I-O Corporation focuses on Server and Desktop Virtualization solutions for Education, SMB and Enterprise Markets. The server solutions are based on the world-class IBM hardware and software from VMWare, Microsoft, and Citrix. The desktop solutions are implemented via I-O's ProEdge Thin Clients based on Intel and AMD processors and XPe, CE, and Linux Operating Systems.
In addition to the ProEdge thin clients, the IBM Server offerings, and the expertise to make it all work, I-O also provides internet video streaming solutions for lecture capture as well as host connectivity and printing solutions for IBM Midrange and Mainframe systems. Product designs include economically priced video encoders, video chassis systems, thin clients, host print software, print servers, and Xip Twinax Controllers. With more than 750,000 enterprise solutions installed in more than 30 countries, I-O Corporation's reputation for product reliability and customer support is recognized world-wide. For more information, please visit http://www.iocorp.com.
###