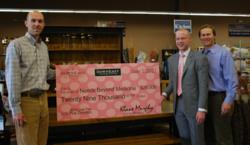 We feel that business and the community are inseparably intertwined, and the two not only can, but should work together.
Salt Lake City, UT (Vocus/PRWEB) January 25, 2011
For high-style, low-price retailer DownEast Home & Clothing, giving back to the community, both locally and globally, is as much a part of business as passing along everyday savings and value to its customers. In 2010, the retailer made significant donations to organizations like Needs Beyond Medicine and CHOICE Humanitarian, in addition to organizing fundraisers and contributing staff time and merchandise to such philanthropic initiatives as an orphanage construction project in Haiti, the PINK Half Marathon to support breast cancer awareness and research, Big Brothers Big Sisters, the Utah Museum of Fine Arts, a scholarship for the visually impaired at Brigham Young University, and various other university and K-12 school programs. In 2011, the retailer plans to continue to proactively contribute to the community with creative programs that will allow customers to also get involved.
"We feel that business and the community are inseparably intertwined, and the two not only can, but should work together," said Rich Israelsen, chief operating officer for DownEast, who was interviewed about the company's philanthropic efforts on Good Things Utah. "We wholeheartedly believe that our efforts to give back to the community make us a better company. Our staff, as well as our customers who proactively partake in many of our donation drives, feel as though they're part of something bigger. DownEast bases its decisions on what the right thing is to do in a fiscal, strategic, philosophical and social responsibility sense. And, given our commitment over the years and our plans to continue serving the community as part of our corporate mission, we believe that the only right thing to do is to give back."
DownEast's "Live for Pink" promotional event, in support of breast cancer awareness month in October 2010, allowed customers to support the cause by purchasing their favorite pink colored DownEast Basics tees and camis at a special sale price. DownEast contributed 50 percent of the proceeds – $29,000 – to Needs Beyond Medicine (formerly UCREW), a Utah-based organization striving to decrease the burden of cancer by increasing awareness, education, access to screening and support for cancer patients. In the same month, several members of DownEast's management and customer service team also put on their sneakers and ran 13.1 miles as part of the first annual PINK Half Marathon, held in Park City, Utah. A key event sponsor, DownEast helped launch the event and exceeded the goal of having over 350 women race together in support of breast cancer awareness.
The corporate environment at DownEast is one that fosters employee support of community causes, evident not only in employees partaking in local events like the Park City marathon, but also in their willingness to travel globally to support initiatives like CHOICE Humanitarian, to which DownEast donated $35,000 in 2010. In operation for 28 years, CHOICE Humanitarian is a non-profit organization that currently works in five countries throughout the world, helping to end poverty by focusing on sustainable rural village development. As a CHOICE Humanitarian corporate partner, DownEast currently works with the Chirixquitzac village in the mountainous Polochic region of Guatemala, helping to build a water system that will bring water directly into villagers' households for the very first time.
As Chelsi Smith, a regional manager for DownEast wrote in a July 2010 blog posting about the company's involvement: "Employees are supporting this work through a voluntary donation program that is matched by DownEast. In the past year, $20,000 has been raised to build the water system and to fund other smaller projects. But our support doesn't end there. In June, five DownEast employees – myself included – and one family member made the trek to the Chirixquitzac village itself, where we had hands-on involvement in breaking ground on the water system's construction. For a week, we rolled up our sleeves and worked alongside the villagers and local CHOICE leaders to dig trenches that will carry precious water. Once completed, the duct system will eliminate the need for villagers to transport water to their homes, often a distance of a half-mile or more."
In addition to corporate flagship philanthropic partners like Needs Beyond Medicine and CHOICE Humanitarian, DownEast is a proactive responder to the global community's needs following natural disasters. Bill Freedman, VP at DownEast, blogged about the opportunity the company had to contribute $11,000 – through employee and corporate donations – to support the Utah Flash Family Foundation's initiative to rebuild a rural orphanage on the outskirts of Port-au-Prince, Haiti, following the earthquake in early 2010.
DownEast's contributions to the community are a staple not only in its corporate history, but also as the company continues to expand and open new retail locations.
"We look forward to continuing to give back to a community that has so generously embraced our business," said Israelsen. "Our plans in 2011 are to continue to dedicate ourselves to the spirit of giving back, and to make this the most notable year to date in meeting the high goals our team has set to help make a difference in the world."
About DownEast Home & Clothing
DownEast Home & Clothing (http://www.downeasthome.com), a leader in stylish and affordable apparel, home furnishings and accessories, believes that shopping should be a fun, guilt-free experience. Founded in 1991 and still family-owned and operated, DownEast continues its goal of bringing customers the very best merchandise including modest clothing – from national brands to its own DownEast Basics apparel – at the very best prices.
The DownEast Basics clothing line features smart layering pieces and wardrobe enhancing garments so you can embrace the American classic look with your own sense of style.
Shop for cute tops, modest dresses and accessories for women and girls at DowneastBasics.com.
The fast-growing retailer operates nationally with its Basics line via its online store in addition to 41 locations throughout the West including Utah, California, Idaho, Arizona, Washington, Nevada and Wyoming.
###