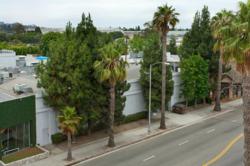 Hackman Capital is expanding our footprint here in Culver City for good reasons.
Culver City, CA (Vocus/PRWEB) January 26, 2011
Hackman Capital, a privately-held industrial and commercial real estate investment firm, announced today, on behalf of its affiliate, the closing of a $5 million loan to permanently finance the acquisition of three creative office buildings in Culver City, California. The office, recording and production studios, totaling 32,248 square feet, are 100% leased by Westwood One. Inc., the country's largest independent provider of network radio programming and traffic information. The Hackman Capital affiliate acquired the portfolio in an all-cash, sale-leaseback transaction in December 2009.
The non-recourse financing was arranged by Los Angeles based capital markets advisor, Verona Capital Markets(VCM), who obtained the loan from a major Wall Street investment bank. The loan provided 10-year, fixed-rate financing with a 30-year amortization period and a 5.99% coupon. The proceeds of the loan were used to repatriate equity to the sponsor and its investors.
"VCM was able to mitigate the risk associated with a single, non-investment grade tenant by highlighting the superior sponsorship behind the transaction, including its track record of operational excellence across its portfolio and its extensive experience in the Culver City submarket," said Eliav Dan, VCM's managing principal. In addition to highlighting Westwood One's longstanding occupancy of the buildings and the financial commitment of its majority equity stakeholder, local private equity firm The Gores Group, Dan noted that "VCM assuaged the lender's concern regarding a downside scenario by emphasizing the location of the project in reinvigorated downtown Culver City, the fungibility of the buildings, the loan amount relative to land value and the 'go-dark' value of the buildings."
According to Michael Hackman, founder and CEO of Hackman Capital, this deal is yet another example of the the vitality of the Culver City submarket. "One of the west side's most progressive and rapidly growing areas, and a destination for creative businesses, Culver City is a vibrant community, " said Hackman. "We are expanding our footprint here for good reasons."
Hackman Capital, which is based in Los Angeles, has been investing in industrial and office properties since 1986. Although the company and its affiliates have a large national presence, with an existing portfolio including more than 56 buildings and 16 million square feet in markets across the country, the company is proceeding with investment strategies focusing on Southern California and the West Coast.
Of the 13 properties Hackman Capital affiliates already own in Southern California, five are in Culver City. The three Westwood One Studios are located in the Hayden-Higuera district at 8960 Washington (9,668 square feet), 8966 Washington Boulevard (14,780 square feet) and 8944 Lindblade Street (7,980 square feet).
More about Hackman Capital
Hackman Capital specializes in the acquisition, management, redevelopment and adaptive re-use of industrial and office real estate. Founded in 1986, Hackman Capital has acquired or developed more than a billion dollars of property on behalf of the company, various investment funds and institutional clients. The company manages all aspects of the real estate process, from acquisition through asset management and disposition, and offers services including property and asset management, construction management, marketing and leasing, finance and administrative functions, legal, compliance and investor relations. Hackman Capital currently manages for its affiliates a portfolio of more than 16 million square feet, including 56 buildings and 750 acres of developable land. The
company is based in Los Angeles, California.
For more information about the company, please visit http://www.hackmancapital.com
More about Verona Capital Markets Inc.
Verona Capital Markets Inc. is a full service real estate investment banking and capital markets advisory firm based in Los Angeles. VCM specializes in arranging structured debt and equity financing for all types of commercial real estate investments throughout the country and represents financial institutions in connection with the disposition of performing and non-performing notes and REO. In their previous capacities as lenders and lender's counsel, respectively, our principals have been involved in virtually every facet of the securitized lending process, including loan origination, structuring, underwriting and documentation.
For more information about VCM, please visit http://www.veronacapitalmarkets.com.