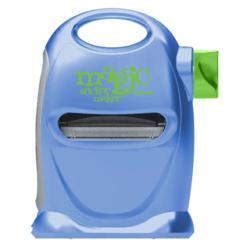 Kids can magically create their own stickers!
Scottsdale, AZ (Vocus/PRWEB) January 26, 2011
Xyron, Inc is celebrating the release of the Magic Sticker Maker in the U.S and Canada. For the past several years, Xyron has manufactured the Tomy Cella sticker maker, available in Europe and Asia. With over one million units sold abroad, Xyron is bringing the magic into the States.
The Magic Sticker Maker can be used to make stickers and badges from existing pictures by simply turning the handle. It is easy to use and does not require heat, electricity or glue, so there are no messes to clean.
"Xyron tools have always been described as 'magic,'" says Product Manager, Chris Potter. "The Magic Sticker Maker helps to improve a child's creativity. Kids enjoy expressing their uniqueness through making their own stickers with cool designs, celebrities or photos of friends."
The cartridge based system is easy to change and the edge-to-edge adhesive is acid-free and non-toxic. The tool itself is available in three colors: pop green, candy red and original blue. Each has its own design, promoting individuality and creativity.
The blue Magic Sticker Maker is currently available online and in retail stores. The red and green Magic Sticker Makers will be available online and in retail stores early Fall 2011. Each machine comes with 20 feet of permanent adhesive and will accept items up to 2 ½ inches wide.
Xyron develops and markets innovative products into craft, hobby and mass retailers world-wide. Products include patented adhesive and cold-lamination tools, specialty crafting instruments and unique hand-held dispensers.
###