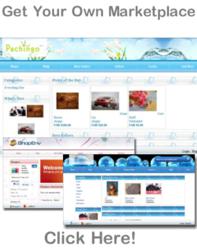 ShopENV is about people working together online and forging win/win connections to build marketplaces full of amazing items
(Vocus/PRWEB) January 26, 2011
ShopENV gives its marketplace renters, termed "Mavens," the ability to create their own version of an Etsy-like marketplaces while making the ecommerce industry sit up and take notice. These Mavens can form their own marketplace and earn immediate income by aggregating sellers into their marketplaces.
According to ShopENV's co-founder and CEO, Kevin Thompson, "ShopENV is about people working together online and forging win/win connections to build marketplaces full of amazing items."
Thompson also added, "ShopENV is a simple concept. Individually, sellers might have a hard time attracting enough traffic to make their businesses work. By combining with other similar sellers in a themed marketplace, it increases their exposure, which translates into measurable results."
ShopENV is incredibly affordable. While some ecommerce companies charge transaction fees and listing fees, ShopENV is trying something different: they're letting the Mavens set the terms and keep the revenue. ShopENV is charging only monthly subscription fees varying between $50 and $100. The platform enables Mavens to run their own platform, recruit sellers, sell advertising space and earn money collected from transaction fees.
It's entirely up to the Mavens to set competitive rates. As Kevin Thompson said in his recent interview, "Instead of building a system from scratch, people can leverage our platform, pass off the expense and technical burdens to us and start selling immediately.
Mavens can even use a private domain for their marketplaces, which allows them to stay consistent with their brands if they have one."
ShopENV provides more than just an "Etsy-like" marketplace platform:

It gives Mavens a desire to pursue their passions and gives them the ability to be more creative.
It brings a small town community feeling where the storeowners support each other.
It makes it easy for buyers to find and purchase their items: at checkout, the buyers only pay once even if they've bought items from multiple vendors.
It's a unique innovation that allows the linchpins of the world to build creative shopping environments.
ShopENV is very appealing to Mavens because of the opportunity to earn income by using their digital influence to achieve tremendous results.
Passion – the key element for all business owners. Regardless of their niche, big or small, they can build a marketplace around their passion.
To set up a free account with ShopENV, visit the ShopENV website and get immediate access to all the amazing features today at http://www.ShopENV.com. For savvy business owners who want to take advantage of the VIP service, ShopENV offers premium packages.
For media inquiries: Kevin Thompson is available for expert quotes and interviews.
Follow ShopENV on Twitter at http://twitter.com/shopenv
Email: team(at)shopenv(dot)com
Contact Publicist Tatyana Gann at smokinhotpr(at)gmail(dot)com phone: 615.354.7265
###